Linguists Assist English Teaching Technology
Expert linguists from the College of Arts helped launch a new instructional software programme to aid adult literacy and courses for non-native speakers of English.
Glasgow-based start-up company Micro-phonics Ltd developed a prototype of the programme using a First Step Award from the University of Glasgow. The next stage involved a partnership with Dr Jane Stuart-Smith (pictured below) and Dr Rachel Smith from the School of Critical Studies, specialists in speech production, perception and regional and social accents, to test their product empirically and develop it for market.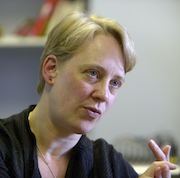 The Micro-phonics Ltd software uses a combination of video, animation and images to blend individual elements of speech together to teach letter-sounds, handwriting and pronunciation.
The primary markets for the product are English for Speakers of Other Languages (ESOL), corporate, government or educational bodies. The non-profit sector will also use it for adult literacy and English language teaching programmes.
Colin Hamilton, founder and director of Micro-phonics Ltd, said: "Without the input from the College of Arts we would have found it very difficult to develop and test our product; Jane and Rachel brought a special academic rigour to Micro-phonics. The £5,000 from the First Step Award was an ideal opportunity to engage for a short period of time the College of Arts and to develop the foundations of a longer term partnership."
Rachel also praised the scope of the project, saying: "Engaging with business such as Micro-phonics is an excellent opportunity for us as academics. Our research is very relevant to a variety of sectors such as businesses that are based around verbal communication and it is rewarding to be able to contribute directly to the development of such a dynamic company."

‌