Stories from Glasgow: Episode One - Unravelling Scotland's Knit History
Our first episode takes us on a deep dive into the Scottish knitting industry with the University of Glasgow's Fleece to Fashion project team. Which iconic knitted garment found fame in Hollywood? Where in Scotland can you spin alpaca yarn? Who was really behind the knitting patterns of Bernat Klein?
You don't need to be a knitter to enjoy this episode, but you may be inspired to pick up some needles and cast on as the team take us on a journey across Scotland that spans decades.
About the Fleece to Fashion Project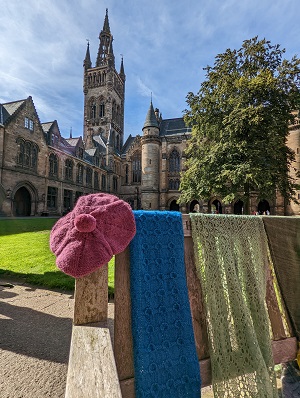 The Fleece to Fashion project follows the production cycle from fleece to fashion, interrogating why and how knitting has adapted to and survived modernisation to become a distinctive heritage brand in the modern Scottish economy and culture. The research focuses on three themes – creativity, sustainability, authenticity – to chart the relationships between skills, design, knowledge, and techniques. These factors underpin the survival and revival of knitting as a craft and industrial practice, and are the reasons why knitted textiles have become synonymous with Scottish heritage.
You can keep up to date with the Fleece to Fashion project by visiting their website, where you can also find information about their next events and check out their resources, including their recently-released Knitmap. Their Glasgow University Knits pattern book is now available to buy via the University of Glasgow shop.
You can also find the project on Twitter and Instagram as @UofGKnitting
About the Fleece to Fashion Project Team
Lynn is Professor of Modern History at the University of Glasgow and lead investigator for the 'Fleece to Fashion' project. Her research ranges across modern gender, social and oral histories. Until now her textile-focused research has largely been based in Shetland, published in Myth and Materiality in a Woman's World: Shetland 1800-2000 (2005) and in articles in Textile History, Gender & History and Signs. With Marina Moskowitz she was responsible for two knit-focused projects including 'Knitting-in-the-Round' which employed a knitter-in-residence and a project on authenticity in knitted lace which recruited amateur knitters to undertake practice-based research.
Sally is a lecturer in dress and textile history at the University of Glasgow. Her research ranges across the 18th and 19th century with a particular focus on Scotland. She was the researcher on 'Artisans and the Craft Economy in Scotland', at the University of Edinburgh, from 2013-2014, focusing on the Ayrshire whitework industry and Scottish handloom weavers. Prior to this, she was the researcher on 'Colouring the Nation', a two-year collaborative project between the University of Edinburgh and National Museums Scotland. She has published on turkey red, whitework, tartan and is currently researching textiles in the Atlantic slave trade.
Roslyn is a research associate on the Fleece to Fashion Project at the University of Glasgow. Her PhD thesis was on the History of the Shetland lace knitting industry in the eighteenth and early nineteenth century and although she has researched knitted textiles in other regions, her focus has remained on Shetland. She has recently collaborated with Dr Carol Christiansen, textile curator at Shetland Museum and Archives on the RSE funded Nottingham Shetland lace project, and the AHRC funded Digitisation Strategy for Shetland Museum's Recognised Textile Collection.
Lin is a post-doctoral research assistant for the project. She recently completed an AHRC-CDA funded PhD titled, 'Mechanising the Needle: The development of the sewing machine as a manufacturing tool, 1851-1980'. Her research used both archival sources and material culture to explore the impact of stitched object construction and human tacit skill on the development of mechanised production. Lin initially trained as a woven textile designer at the Glasgow School of Art. And after a short time working in the Scottish woollen industry, she was a professional costume maker for theatre, film, and television.
---
First published: 5 October 2022