Glasgow hosts first ever University-sponsored wall of death ride
The University of Glasgow has host what we believe to be the first ever University-sponsored wall of death ride!
The first wall of death, replete with motorcycles and riders, was exhibited at Coney Island amusement park in 1911, and soon after this attraction became a staple of carnival and circus culture. Audiences flocked to see stunt riders performing gravity- and death-defying tricks as motorcyclists whizzed around the cylindrical motordrome. Mirroring the decline of live circus since the 60s and 70s, however, there are now less than a handful of performing companies in Britain.
In the first week of the 2020 lockdown, the artist Stephen Skrynka started work on The Revelator, the first wall of death to be built in Scotland. An exquisitely sculpted wooden structure, The Revelator is a nomadic and independent art school, arts venue, cinema, discussion and exhibition space, which is still taking shape at Barclay Curle in South Street.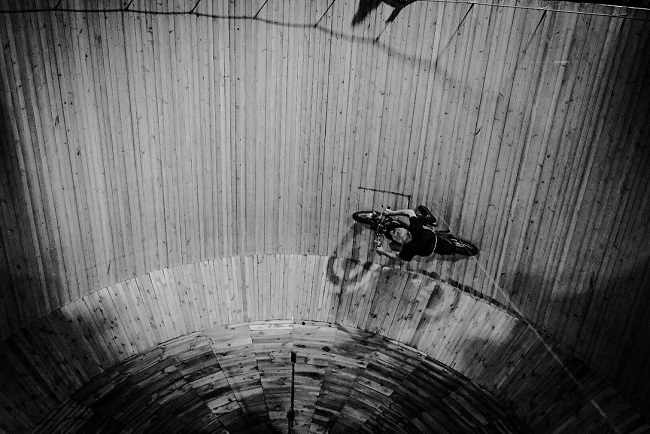 Supported by the School of Culture and creative Arts' Collaborations & Cultural Activities Committee on June 25 The Revelator's researcher-in-residence, Dr David Archibald, and Stephen Skrynka organised 'Thanopticon: Looking Death in the Eye', a theatricalised symposium comprising a series of lightning talks, performances and songs, including from the UoG's Dr Mitch Miller (FTV and Fair Scotland), Professor Gerry McCartney, (UofG's Professor of Wellbeing Economy), Dr Holger Mohaupt (Liverpool John Moores) Chris Dolan, Peju Alatrise, David and Daniel Archibald, Sara Alonso Martinez, Herbert Cea, and Ilana Halperin, with songs from Sarah Martin (Belle and Sebastian), The Tenementals and Stephen Skrynka himself.
The event also included Stephen performing his magic on the wall of death and a closing life-affirming and inspiring discussion on how artists and academics might deal with living and dying in their work.
Keep an eye out for more at this extraordinary space.
Follow The Revelator on Instagram @the_revelator_clydebuilt
---
First published: 26 July 2022