Thinking Cinema Book Series Launch
The new Bloomsbury monograph series, Thinking Cinema, was launched at "Film-Philosophy 2014: A World of Cinemas", which was hosted at the University of Glasgow in 2014.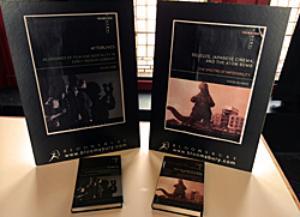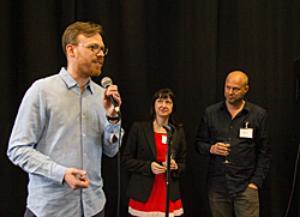 On display were the first two volumes, hot off the press: David Deamer's Deleuze, Japanese Cinema and the Atom Bomb: The Spectre of Impossibility, and Steve Choe's Afterlives: Allegories of Film and Mortality in Early Weimar Germany.

A brief audio file of the convivial wine reception introduction by the series editors Professor David Martin-Jones (Glasgow) and Professor Sarah Cooper (King's College, London), along with the author of the first volume, Dr David Deamer (Manchester Metropolitan), is available here.

A video of an interview with David Deamer is also available above.

Full details of the series, and how to submit a proposal, are available at the dedicated series website.

Forthcoming volumes contracted to the series include books by Professor Thomas Elsaesser, Professor Janet Harbord, Dr Elena del Rio and Dr Kate Ince.