Access to Higher Education
Key Information
Duration: 22 weeks
Dates: September 2022–April 2023
Credits: 40 at SCQF Level 7 (20 per Access subject)
Cost: £580 (£290 per Access subject)
Funding: Funding options available
Delivery: Online
Eligibility: See criteria below
Entry requirements: None
Class time: 4-6 hours per week (depending on subjects)
Independent study: 6-8 hours per week
Enrolments have now closed for 2022-23 and will re-open in March for academic year 2023-24. You can register your interest now.
Our Access to Higher Education programme offers a pathway into a university degree for those who may not have the standard entry qualifications required for undergraduate study.
What is Access to Higher Education?
Our Access to Higher Education programme offers a part-time, flexible route to degree study for adults returning to education, or who meet our Widening Particpation eligibility criteria. Access at the University of Glasgow can enable progression on to our professional degree programmes, including Nursing, Primary Education and Law, or into a wide range of degrees across the Arts, Social Sciences and Sciences and Engineering.
We offer a wide range of academic subjects on Access, with students taking two relevant subjects to allow them to progress on to their degree of choice. Students who study on our Access programme are given a UofG email account, access to our virtual learning environment (Moodle) and use of our incredible UofG Library.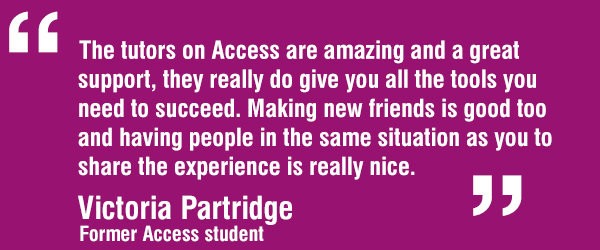 Who is Access for?
Our Access to Higher Education programme is there to provide a route into undergraduate degree study for those who have been out of formal education for three years or more. If you have not been out of formal education for three years or more, you would still be eligible for Access if you meet one (or more) of the following Widening Participation criteria:
- Reside in an SIMD decile 1-4 postcode area (applicants can check their eligibility on the University of Glasgow's postcode checker)
- Be care-experienced
- Be estranged and living without family support
- Have caring responsibilities
- Have Refugee or Asylum Seeker status
We would also welcome inquiries from those who faced extenuating circumstances during their education, and who do not have the relevant qualifications for entry to university as a result. If this is you, please fill out our extenuating circumstances form.
Understanding and Enrolling onto Access
Register your interest for 2023/24
Please complete this form in order to be contacted with key updates related to the University of Glasgow Access to Higher Education programme for 2023/24 entry. If you have any questions, would like to update your details, or remove yourself from the mailing list in the future, please contact access@glasgow.ac.uk.