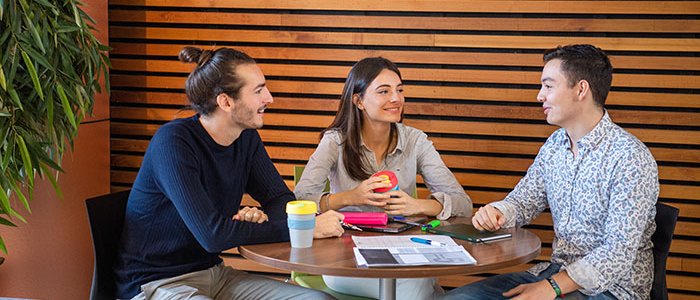 This Certificate of Higher Education allows you to develop advanced Gaelic language skills, as well as acquire in-depth knowledge and understanding of Scottish Gaelic language, culture, and literature through advanced level Gaelic language immersion. This programme is ideal for adult learners and education professionals who want to develop their fluency in Gaelic.
Why this course
CARSON AN CÙRSA SEO
Elements of this programme will be delivered with key partners to provide you with the opportunity to engage with a range of Gaelic speakers and to experience Gaelic-speaking communities and environments. Our partners include:
Gaelic Books Council who will facilitate a weekly book club and events with well-known authors.
Ceòlas who will facilitate a required 3-week residential experience in one of Scotland's strongest Gaelic-speaking communities, South Uist
Course structure
STRUCTAR A' CHÙRSA
This one-year programme consists of three courses:
Leughadh is Sgrìobhadh (Reading and Writing)
Èisteachd is Labhairt (Listening and Speaking)
Coimhearsnachd na Gàidhlig (Gaelic Community)
Course alteration or discontinuation
The University of Glasgow endeavours to run all courses as advertised. In exceptional circumstances, however, the University may withdraw or alter a course. For more information, please see: Student contract.
Career prospects
DREUCHDAN
Studying Gaelic at university opens doors to a diverse range of work in which Gaelic is essential. Over the last few years, those who have completed the Gaelic with Immersion programme have gone on to work in primary and secondary education as well as in Gaelic planning, development and administration.
Fees & funding
CÌSEAN AGUS MAOINEACHADH
Tuition fees are equivalent to a year of study in an undergraduate programme. See Tuition Fees for details.
Entry requirements
INNTRIGEADH
Proficiency in Scottish Gaelic equivalent to Gaelic at B1 level on Common European Framework of Reference for Languages (CEFR).
For a definition of the CEFR B1 Level, please refer to both:
For example, CEFR B1 level is equivalent to attainment of Higher Gaelic (Learners) (SCQF Level 5). You are not required to have obtained this formal qualification to gain entry to the programme. Applicants will be assessed on their Gaelic ability at interview.
How to apply
CUIR A-STEACH
The application portal is now open. Applications will be considered until all places on the programme have been allocated prior to the September 2023 start date. Applicants will be invited to participate in an online interview to assess oral abilities.
Apply now