Antiquities Trafficking and Art Crime: A Criminologist's Perspective at the US Department of State
Issued: Tue, 12 Dec 2017 12:19:00 GMT
Dr Donna Yates, the School's Lecturer in Antiquities Trafficking and Art Crime, was invited to present at an analytical exchange, presented by the U.S. Department of State Bureau of Intelligence and Research last Monday.
The programme brings together leading experts from academia, think tanks, non-governmental organisations (NGOs), and private industry from around the world to participate in analytic exchanges. These exchanges offer new perspectives and analytical insights to thousands of intelligence analysts and U.S. policy makers. Analytic exchanges prepare State Department officials at all levels, including undersecretaries, assistant secretaries, and ambassadors, to formulate and advance U.S. foreign policy.
At Dr Yates' event around 70 attended, which was a large and successful turnout for the programme. Donna focused specifically on the antiquities market as a grey market and how complicated it is to regulate as ethics are blurred and the people committing crimes are very wealthy and powerful. She also discussed the difference between the illicit market in antiquities and markets for other illegal commodities. Something strange and special has to happen to antiquities to convert them from black market goods to the kind of things that wealthy elites buy and brag about. Dr Yates' talk focused on how criminological tools are used for that purpose.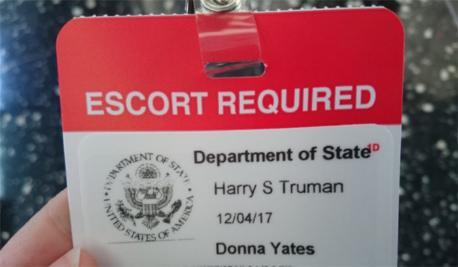 ---