Dr. Frank Mugisha seminar and Honorary Degree, Doctor of the University
Issued: Thu, 16 Jul 2015 15:46:00 BST
The public event 'The Present Situation of LGBTI People in Uganda', accompanied the award of Doctor of the University to Dr. Frank Mugisha on Commemoration day.
Dr. Mugisha is Executive Director of Sexual Minorities Uganda, the major coalition of organisations supporting lesbian, gay, bisexual, transgender and intersex people's human rights in Uganda. The event was chaired by Dr. Matthew Waites, Senior Lecturer in Sociology, as a joint event of both Glasgow Human Rights Network and the Gender and Sexualities Forum. Dr. Mugisha's lecture discussed developments since 2009 when the 'Anti-Homosexuality Bill' was introduced into the Uganda parliament, initially proposing the death penalty for 'aggravated homosexuality', though the later version enacted on 24 February 2014 referred to life imprisonment. On 1 August 2014 the Constitutional Court in Uganda ruled the Anti-Homosexuality Act invalid, but various forms of legal discrimination and proposals for criminalization continue.
Dr. Matthew Waites engaged as discussant in a conversation over how people and organisations in the UK could better support the Uganda LGBTI movement, raising questions concerning strategies of rights-claiming, the value of invoking 'genocide', and the distribution of money in global LGBTI politics, with reference to the sociology of human rights. Scott Cuthbertson was a further speaker from Scotland's Equality Network for LGBTI equality and human rights, commenting on his organisation's international work.
On the following day, Commemoration day, Dr. Mugisha was awarded the Honorary Degree of Doctor of the University, following a nomination by Dr. Waites. This day 17 June also happened to be Dr. Mugisha's birthday. The ceremony was held in the Bute Hall, with Honorary Degrees conferred by the Chancellor, and other recipients including Baroness Scotland. The oration presenting Dr. Mugisha to the Chancellor was provided by Professor Deirdre Heddon, Dean of the Scottish Graduate School for Arts & Humanities. The oration, with further details and pictures are available via the Glasgow Sociology blog (see link above).
For further info contact Matthew.Waites@glasgow.ac.uk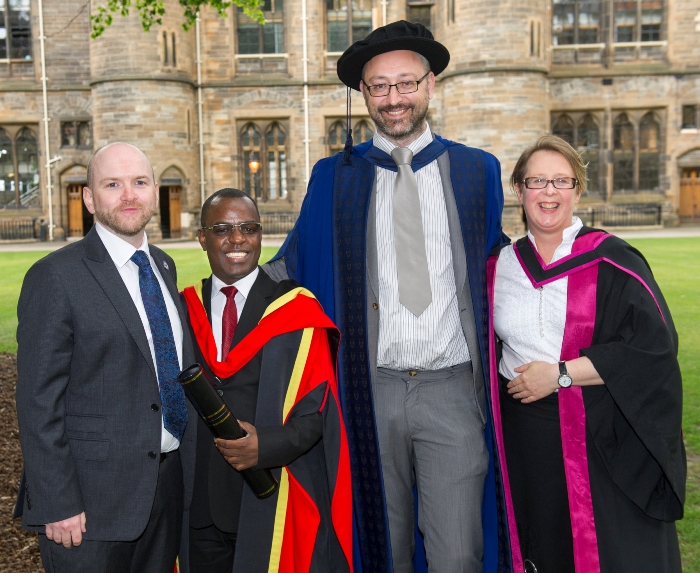 ---