Themes from Smith and Rousseau 2015
Issued: Tue, 23 Jun 2015 15:11:00 BST
Themes from Smith and Rousseau 2015 is a joint meeting of the International Adam Smith Society and the Rousseau Association at the University of Glasgow, 20-22 July 2015. The meeting aims to bring together scholars to discuss the shared interests and the relationship between two prominent members of the Enlightenment.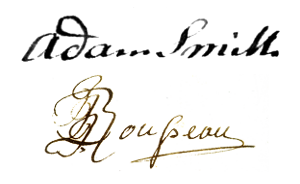 Jean-Jacques Rousseau (1712-1778) and Adam Smith (1723-1790) are two of the foremost thinkers of the European Enlightenment, thinkers who made seminal contributions to moral and political philosophy and who shaped some of the key concepts of modern political economy. The intellectual influence of Rousseau on Smith has become a matter of increasing scholarly interest. Smith's first published work was a letter to the Edinburgh Review (1756) where he discusses contemporary philosophy, the Encyclopédie and Rousseau's Discours sur l'origine et les fondemens de l'inégalité parmi les hommes (1755). The discussion comes at a key point in Smith's intellectual development as he was engaged in writing the Theory of Moral Sentiments (1759) which emerged to great acclaim and established his international reputation.
We'll explore the ideas and shared concerns of Adam Smith and Jean-Jacques Rousseau in a series of workshop panels divided into three broad themes: Morality, Politics and Smith and Rousseau. The Meeting is supported by a grant from the British Academy/Leverhulme Small Research Grants Scheme.
Adam Smith was a student, professor and rector of the University of Glasgow.
Contact: Dr Craig Smith, Adam Smith Lecturer in the Scottish Enlightenment, School of Social and Political Sciences (Craig.Smith@glasgow.ac.uk)

Website: www.glasgow.ac.uk/smithrousseau2015
---