New book: Human Rights, Sexual Orientation and Gender Identity in the Commonwealth
Issued: Tue, 08 Oct 2013 16:41:00 BST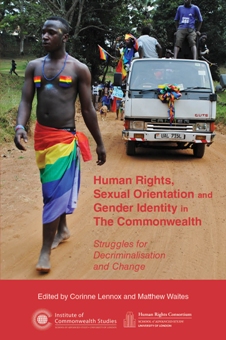 ‌The first book to focus on lesbian, gay, bisexual and transgender people's human rights in the Commonwealth context was launched internationally during the summer, commencing with a launch event in Toronto, Canada. Human Rights, Sexual Orientation and Gender Identity in the Commonwealth: Struggles for Decriminalisation and Change is co-edited by Matthew Waites (Senior Lecturer in Sociology, University of Glasgow) and Corinne Lennox (Institute of Commonwealth Studies, London), and published by School of Advanced Study completely free online.
The book was launched in Toronto, Canada on 26 June during Pride week at the event 'Sexuality, Repression and the Law', in partnership with the unique global project 'Envisioning Global LGBT Human Rights' based at York University. Videos of the launch including Matthew Waites' presentation and chapter author Monica Tabengwa from Botswana can be viewed online: Part 1; Part 2; Part 3. Matthew's further speaking engagements in Canada included for the Human Sexuality Research Group at University of Guelph; on 'Sex City' on University of Toronto radio station CIUT; and at the Glad Day bookstore, the world's oldest LGBT bookshop. This was followed by a UK launch at Senate House in London on 5 July, including speakers from Jamaica and Uganda, for which a video of Matthew's talk is also available. The book is now being disseminated internationally via means including a Facebook site, which is being used to provide updates on related events and debates.
In late August Matthew presented the book's concluding comparative analysis at the International Association for the Study of Sexuality, Culture and Society bi-annual conference in Buenos Aires, Argentina, a key forum for sexualities and gender scholars from the global South. On 16 September, back in Glasgow, he engaged in discussion with Lynne Featherstone MP, UK government Minister at Department for International Development, making suggestions for how British diplomacy could help bring Southern states which have decriminalised same-sex behaviour (such as the Bahamas, India and South Africa) to the fore in the Commonwealth debates to disrupt North/South divides. This took place on a fringe meeting panel at the Liberal Democrats party conference, together with Alistair Stewart, Assistant Director of international LGBT NGO Kaleidoscope.
For ongoing updates on debates and knowledge exchange, 'like' the book's Facebook site (above) and/or follow Matthew on Twitter.
---