Fantastic proteins and where to find them!
Fantastic Proteins and Where to Find Them takes the world leading, wide ranging research from the Institute of Molecular, Cell & Systems Biology and reaches out to the public to increase awareness of this hidden world of the fantastic molecular machines that enable life. We needed help from the public to find the most fantastic proteins! Children (and some adults!) joined us at events such as Science Sunday 2019 and Explorathon 2019 on making proteins and following their life until destruction.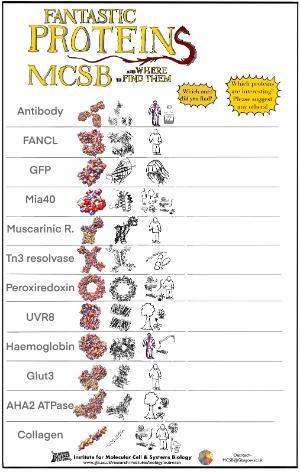 The 'life story of proteins' can be told while children of all ages create cell imprints that 'tell the story of a protein from gene to degradation'. These imprints will be created using purpose made stamps that are pressed into different coloured play doh inside a petrie dish that will be embellished with google eyes and then be taped shut and taken home.
Engage with fantastic proteins ranging from transporters in yeast mitochondria, light sensors in plants, motors and filaments in cells, kidney building proteins in flies, as well as Alzheimer and Parkinson associated proteins in human brain cells. Three or four different specific proteins and their details function/fantastic aspects will be demonstrated. Participants will hunt for fantastic proteins in a tent symbolising a cell that will be filled with balls as well as 3D protein prints and their sources (yeast, plants, cells, mitochondria, cells, brain, neurons).
Download your Fantastic Proteins trump cards: trump cards