You Can Be a Doctor!
Issued: Fri, 20 Apr 2018 12:37:00 BST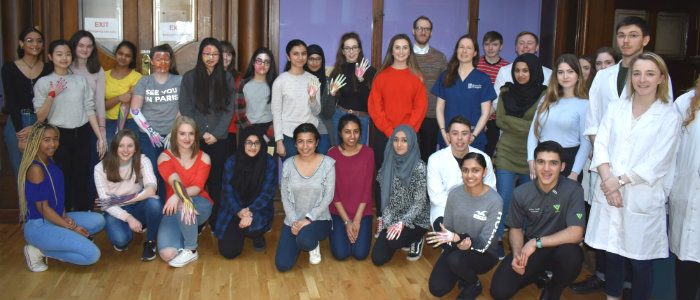 On the Thursday 5 April, the Anatomy Facility in Partnership with the Social Mobility Foundation and the charity 'You can be a Doctor' hosted 28 S5 & S6 pupils from 11 different secondary schools for an afternoon of Anatomy workshops.
The event, which was initiated by Dr Cory Dunnigan from 'You Can Be a Doctor' was co-developed with Dr Emma Bailey with the aim of encouraging state school pupils from all backgrounds to apply for Medicine and related Scientific Degree subjects.
The activities were designed to introduce the pupils to some real Anatomy, inspire their interest in medical science and enable them to chat to current students about their career aspirations.

Delivered by Dr Emma Bailey and Catherine MacRobbie, the afternoon saw students examining real human anatomical specimens as well as participating in skeleton building and anatomical body painting.
Student helpers volunteered their time to support running the workshop stations and chat to the pupils about their experiences. The pupils were inquisitive and engaged and the feedback was excellent.
Professor Fabio Quondamatteo said: "we are particularly delighted to support this initiative and I hope that this will be the first of a longer series of events.
"I am particularly grateful to my staff, Dr Emma Bailey who organised and delivered the event, Ms Catherine MacRobbie, who led the painting session, and Mr Stuart McNally and Mrs Pamela Hollywood who provided technical assistance.
"Finally, I would also like to thank the students; Fourth Year Anatomists - Emma Thomson, Hayley Stanway and Adam Dardis; BSc(MedSci) Anatomy student - Reiss Whitefield; and Second Year Medics - Emma Clark, Alexander Tham and Jack Maybury for their active participation in speaking to the school pupils."

---