Dr Tansy Hammarton
Senior Lecturer

(Parasitology)
telephone: 01413306766
email: Tansy.Hammarton@glasgow.ac.uk

RB625 Level B6, Iii - Sgdb, University Place, Glasgow G12 8TA
https://orcid.org/0000-0002-0799-6600
Biography
‌Tansy Hammarton received a BA(Hons) in Natural Sciences from the University of Cambridge, UK in 1995, specialising in microbial and parasitic disease and virology. While there, she carried out two summer projects and her final year research project on male-killing bacteria in ladybirds, working in the laboratory of Mike Majerus under the supervision of Greg Hurst. She then went on to complete a PhD in Microbiology in 1998 at the University of Manchester, investigating the export of polysaccharide capsule in E. coli K5, under the supervision of Ian Roberts. Late in 1998, she took up a post-doc position in Jeremy Mottram's lab at the Wellcome Centre for Molecular Parasitology at the University of Glasgow, researching the cell cycle in the African trypanosome, Trypanosoma brucei. She was then awarded junior fellowships from the Medical Research Council and Research Councils UK in 2005 to allow her to become independent and set up her own lab researching cell division in T. brucei. At the end of these fellowships in 2010, she became a Lecturer at the University of Glasgow, and obtained a New Investigator Research Grant from the MRC. She was promoted to Senior Lecturer in 2012 and her current research interests include the signalling pathways that regulate cytokinesis in T. brucei as well as the roles of trypanosome cytoskeleton proteins in cell division.
Tansy also has a strong interest in Public Engagement, which stems from the outreach work she was required to do as part of her RCUK fellowship. She has been a STEM Ambassador since 2005 and over the years, has developed a broad programme of infection biology-related activities for school pupils aged 2-18 yrs and their teachers, and has also taken part in a variety of events to bring science to the general public. She also trains undergraduate and postgraduate students in Science Communication and Public Engagement alongside their academic studies. In 2018, her extensive work in Public Engagement and her significant role in championing it inclusion in the undergraduate curriculum was recognised with the award of the Peter Wildy Prize from the Microbiology Society https://microbiologysociety.org/grants/prize-lectures/peter-wildy-prize-lecture.html.
Research interests
Cell division in African trypanosomes
African trypanosomes (Trypanosoma brucei spp.) are protozoan parasites, spread by the tsetse fly, which cause the Neglected Tropical Diseases, sleeping sickness (humans) and Nagana (livestock) in sub-Saharan Africa. Sleeping sickness caused by T. b. gambiense has been targeted for elimination by the World Health Organisation and although diagnosed cases are currently <2000/year, the recent discovery of trypanosomes in the skin and fat suggests a large latent reservoir exists. Nagana significantly affects prosperity, causing ~$4.5 billion losses in agricultural production. No vaccines exist and better drugs, with fewer side effects and easier modes of administration, are required for long-term elimination. Trypanosome cell division, especially its final stage (cytokinesis) is very divergent from mammalian cell division (1-3) , suggesting that a better understanding of the protein kinase (PK) signalling pathways regulating it would reveal novel drug targets. Furthermore, trypanosomes display remarkable cell biology and are useful model organisms for comparative studies with higher eukaryotes; understanding the regulatory networks involved would shed light on the evolution of eukaryotic cell division.‌
‌‌
We are interested in how T. brucei replicates and divides, since the parasite needs to be actively dividing in the mammalian host to establish infection and evade the immune response. Cell cycle regulation in T. brucei is subject to different regulatory checkpoints compared to mammalian cells (1,2) and while mammalian cells use a contractile actomyosin ring to divide, in T. brucei, a cleavage furrow ingresses unidirectionally along the long axis of the cell (3). Thus, differences in how cell division is controlled at a molecular level could be exploited to develop better drugs. We are investigating the signalling pathways that regulate cell division, with a view to identifying the component enzymes and investigating their roles in cell division, and have previously validated a number of cell division protein kinases as drug targets (4-6). More recently, we performed an RNA interference screen of the trypanosome kinome, and linked a number of protein kinases to cell cycle roles in bloodstream form T. brucei for the first time (7). Current work in the lab is focussed on confirming the roles of these protein kinases and determining how cytokinesis regulators are linked in signalling pathways.
We are also interested in how the trypanosome microtubule cytoskeleton, which remains assembled throughout the cell cycle, is split during cytokinesis, and the roles cytoskeleton-associated proteins play in cell division. We identified a family of microtubule severing enzymes that are required sequentially to remodel the cytoskeleton during cytokinesis in the mammalian bloodstream stage of the parasite (8) and have demonstrated the importance of the cytoskeleton-associated protein, AIR9, previously only studied in plants, for maintaining nucleus positioning in procyclic (insect form) parasites and for accurate cleavage furrow placement in bloodstream T. brucei (9). More recently, we showed that the giant FAZ10 protein, which localises to the intermembrane staples in the flagellar attachment zone, is important for the correct timing and positioning of the cleavage furrow (10).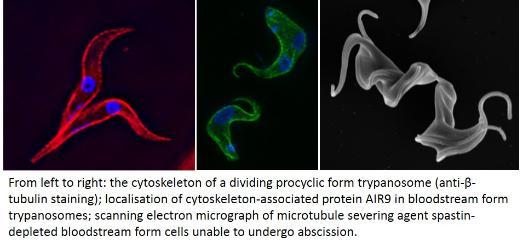 Reference List
1. Hammarton, T. C., Clark, J., Douglas, F., Boshart, M., and Mottram, J. C. (2003) Stage-specific differences in cell cycle control in Trypanosoma brucei revealed by RNA interference of a mitotic cyclin. Journal of Biological Chemistry 278, 22877-22886
2. Hammarton, T. C. (2007) Cell cycle regulation in Trypanosoma brucei. Molecular and Biochemical Parasitology. 153, 1-8
3. Hammarton, T. C., Monnerat, S., and Mottram, J. C. (2007) Cytokinesis in trypanosomatids. Current Opinion in Microbiology 10, 520-527
4. Hammarton, T. C., Kramer, S., Tetley, L., Boshart, M., and Mottram, J. C. (2007) Trypanosoma brucei Polo-like kinase is essential for basal body duplication, kDNA segregation and cytokinesis. Molecular Microbiology 65, 1229-1248
5. Ma, J., Benz, C., Grimaldi, R., Stockdale, C., Wyatt, P., Frearson, J., and Hammarton, T. C. (2010) Nuclear DBF-2-related kinases are essential regulators of cytokinesis in bloodstream stage Trypanosoma brucei. Journal of Biological Chemistry 285, 15356-15368
6. Monnerat, S., Almeida Costa, C. I., Forkert, A. C., Benz, C., Hamilton, A., Tetley, L., Burchmore, R., Novo, C., Mottram, J. C., and Hammarton, T. C. (2013) Identification and functional characterisation of CRK12:CYC9, a novel cyclin-dependent kinase (CDK)-cyclin complex in Trypanosoma brucei. PLoS One 8, e67327
7. Jones, N. G., Thomas, E. B., Brown, E., Dickens, N. J., Hammarton, T. C., and Mottram, J. C. (2014) Regulators of Trypanosoma brucei cell cycle progression and differentiation identified using a kinome-wide RNAi screen. PLoS Pathogens 10, e1003886
8. Benz, C., Clucas, C., Mottram, J. C., and Hammarton, T. C. (2012) Cytokinesis in bloodstream stage Trypanosoma brucei requires a family of katanins and spastin. PLoS One 7, e30367
9. May, S. F., Peacock, L., Almeida Costa, C. I., Gibson, W. C., Tetley, L., Robinson, D. R., and Hammarton, T. C. (2012) The Trypanosoma brucei AIR9-like protein is cytoskeleton-associated and is required for nucleus positioning and accurate cleavage furrow placement. Molecular Microbiology 84, 77-92
10. Moreira, B. P., Fonseca, C. K., Hammarton, T. C., and Baqui, M. M. (2017) Giant FAZ10 is required for flagellum attachment zone stabilization and furrow positioning in Trypanosoma brucei. Journal of Cell Science 130, 1179-1193
Grants
Grants and Awards listed are those received whilst working with the University of Glasgow.
ISSF Catalyst: Mapping lipid distribution in Trypanosoma brucei during cell division
Wellcome Trust
2015 - 2017

NDR kinase pathways in bloodstream stage Trypanosoma brucei
Medical Research Council
2009 - 2013

Regulation of cytokinesis in Trypanosoma brucei
Medical Research Council
2005 - 2009

The development of fluorescent Trypanosoma brucei cell lines as tools for the study of the trypanosome cell division cycle
The Royal Society
2005 - 2006

Research Councils UK Academic Fellowship
Engineering and Physical Sciences Research Council
2005 - 2010

Cell cycle progression in the African trypanosome
Wellcome Trust
2004 - 2007

Teaching
L2 Microbiology:
L3 Medical Microbiology:

Lecturer (Cell division)
Lab Leader (Sleeping sickness diagnostic lab & PCR/toxin Lab)
Tutor

L4 Microbiology/Parasitology/Virology:

Lecturer, Core Skills in Microbiology, Parasitology & Virology (Genetic manipulation of pathogens)
Tutor (Science Communication Workshops)
Supervisor (Research Project & Essay)

Advisor of Studies (L1-L3)
MVLS Head of College Scholars' List (L2/L3):
MSc in Infection Biology:

Supervisor (Research Project & Essay)

MSc in Biomedical Sciences:

Supervisor (Research Project)

MVLS Graduate School Training Programme:


Course Tutor 'How do I engage the public with my research?'

PhD Student Assessor
Additional information
Editorial Board
2017 - present: Frontiers for Young Minds - Associate Editor - Understanding Health section
2015 - 2017: Eukaryotic Cell - Editorial Board
Invited International Presentations
2016: Institut Pasteur, Paris, France - Invited talk, Trypanosomatid parasites - from the field to the lab IV. 'Regulation of cytokinesis in Trypanosoma brucei'
2011: Mar del Plata, Argentina - Plenary talk, IX Argentinean Congress of Protozoology and Parasitic Diseases. 'Cytokinesis in Trypanosoma brucei - some insights in to how trypanosomes divide'.
2011: Woods Hole, Massachussets, USA - Invited talk, Kinetoplastid Molecular Cell Biology Meeting IV. 'The complexities of cell division in Trypanosoma brucei.'
2010: Lausanne, Switzerland - 3rd Conference on Protein Kinases of Parasitic Protozoa. 'Regulation and function of NDR kinases in Trypanosoma brucei'
2009: University of Bordeaux, France - Microbiologie Cellulaire et Moleculaire et Pathogenicite Dept. 'Cell division in the African trypanosome'
2006: Glasgow, Scotland - COST Action B22 meeting, University of Glasgow. 'Protein kinases involved in cell proliferation: differentiation and homeostasis: targets for anti-protozoal chemotherapy'
2004: Dept. of Biochemistry, Melbourne University, Australia
Prizes, Awards and Distinctions
2018: Microbiology Society - Peter Wildy Prize
2011: Royal Society - Partnership grant 'Microbiology in the Media - don't believe everything you read!' in partnership with Miss Jenny Hewitt, Hillhead High School, Glasgow
2011: STEMNet UK - Finalist in UK awards "Most dedicated STEM Ambassador" category
Professional Learned Society
2009 - present: Higher Education Academy - Fellow
2007 - present: Biochemical Society
1999 - present: British Society for Parasitology
Research Fellowship
2005 - 2009: MRC Career Development Fellowship
2005 - 2010: Research Councils UK Academic Fellowship