Dr Robert Gifford
Bioinformatician

(Virology)

Affiliate

(School of Infection & Immunity)
telephone: 0141 330 4640
email: Robert.Gifford@glasgow.ac.uk

https://orcid.org/0000-0003-4028-9884
Research interests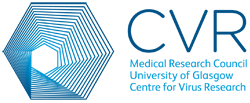 Viral Genomics & Bioinformatics
Paleovirology
My research addresses the ecology and evolution of viruses. Viruses typically have high mutation rates and can evolve extremely rapidly, yet may be the oldest of all kingdoms of life. We are still only just beginning to comprehend the extent and complexity of viral biodiversity, and to appreciate the myriad roles that viruses play as dynamic components of ecosystems. Over recent years, however, revolutionary advances in DNA sequencing and related information technologies have radically transformed the research landscape. As well as facilitating the use of genetic approaches to track viral evolution within and spread between infected hosts, explosive progress in genomics is allowing unprecedented insight into the longer-term history of viral evolution.
My principal contention is that understanding the long-term evolution and origins of viral species will allow the threat posed by contemporary viruses to be assessed and countered more effectively. A central theme in my research is the development of theories that link our growing understanding of contemporary viruses with ecological and evolutionary phenomena that took place over timescales ranging from hundreds to millions of years.
Publications
Number of items: 49.
2022
2021
2020
2019
2018
2017
2016
2015
2014
2013
2012
2009
2008
This list was generated on Tue Nov 29 07:52:40 2022 GMT.
Number of items: 49.
Articles
This list was generated on Tue Nov 29 07:52:40 2022 GMT.
Grants
Grants and Awards listed are those received whilst working with the University of Glasgow.
The center for HIV/AIDS-related structural biology
National Institutes of Health
2017 - 2020

Quinquennial Core Funds
Medical Research Council
2016 - 2021