Dr Emilie Pondeville
Senior Research Fellow

(Virology)
telephone: +44 (0) 141 330 5726
email: Emilie.Pondeville@glasgow.ac.uk

Centre for Virus Research, Henry Wellcome Building, 464 Bearsden Road, Glasgow, G61 1qh
Research interests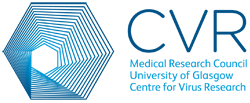 I have a long-term research interest in better understanding mosquito biology and physiology. Female anautogenous mosquitoes need a blood meal from a vertebrate host to reproduce. Therefore they can act as vectors for numerous pathogens, e.g. arthropod-borne viruses (arboviruses) or parasites, responsible for both human and animal diseases.
To control the transmission of mosquito-borne diseases, diverse new control strategies such as transgenic mosquitoes are developed, either to reduce mosquito populations, either by rendering them refractory to pathogens. With this aim, a better knowledge of the reproductive biology and of immune responses of mosquito vectors is beneficial, as this could lead to the identification of new target genes for manipulating mosquitoes. It can also inform mosquito control release programs.
Access at the CVR to newly established insectaries, as well as modern transgenic facilities, provide an exciting opportunity to study in vivo mosquito-arbovirus interactions. In collaboration with other CVR groups my group is deciphering the molecular mechanisms involved in vector competence for arboviruses using genetic tools.
Our research aims to better understand the contribution of tissue-specific antiviral strategies in the mosquito, defence pathway crosstalk, as well as the communication between different mosquito tissues during a viral infection that leads to an integrated antiviral response. Moreover, we are focusing our research on vertical transmission of arboviruses and the molecular mechanisms involved as well as the function of this phenomenon in vectorial capacities of mosquitoes. In this context, we are also developing transgenics and genetic tools in Aedes mosquitoes, such as the Gal4/UAS system, to address gene function at the tissue level.
Grants
Grants and Awards listed are those received whilst working with the University of Glasgow.
Assessing the risk of insect vector-borne diseases in Scotland and their response to environmental change.
UK Research and Innovation
2023 - 2026

MOSAICS - A mosquito arbovirus omics atlas to unravel mosquito-arbovirus interactions
Biotechnology and Biological Sciences Research Council
2022 - 2023

INFRAVEC-2
European Commission
2017 - 2021

Zikalliance
European Commission
2016 - 2019