Communication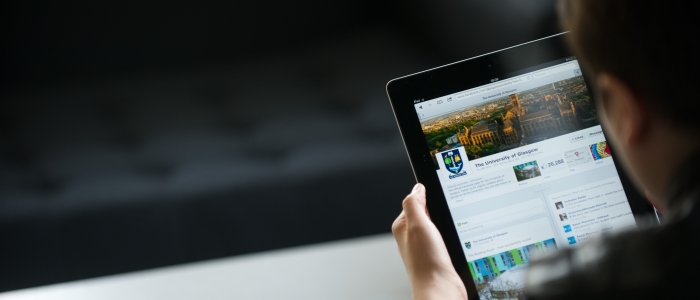 News & events
For submissions to the weekly Sii SWAY bulletin, help sharing social media content, or advice on publicising your news and events, contact Information & Media Officer Jonathan Mitchell.
Tell us about your:
achievements
publications
grants
events
public engagement activities
Your news stories will also be forwarded on to the MVLS College Newsletter and MyGlasgow News, where appropriate.
To publicise your news and events externally contact MVLS Communications Officers Ali Howard or Elizabeth McMeekin (cc Jonathan Mitchell).
Guidelines for submissions
You don't have to to provide a finished news article — here are some guidelines on the sort of information that's useful:
Tell us what happened, where and when it happened, who was involved, and how events unfolded.
List key facts/information in order of importance — starting with the most important information first.
You may want to include quotes, from yourself or colleagues, to provide personal insight.
List links to websites which provide further information
We strongly encourage that you include images or video to accompany your story.
Internal screens
The internal screens in the Sir Graeme Davies Building (SGDB) and Stoker/Henry Wellcome Complex should be used to advertise all events and seminars where paper flyers were used previously.
To post information on the screens please send content to sii-communications@glasgow.ac.uk
Content should ideally be sent as a powerpoint slide saved as a JPEG or PNG
Images should be cropped to a 4:3 or 16:9 aspect ratio where possible
School webpages
To create a webpage, update or amend information on the School's existing webpages, please contact our Principal Web Publisher (PWP) Jonathan Mitchell in the first instance.

Public engagement events form
If you're involved in organising public engagment activities, please take five minutes to fill in our public engagement events form.
This information allows us to develop an overview of all the fantastic PE work going on within the School, enabling us to improve the way we measure the impact of our scientific outreach activities.
We're required to gain consent for any media content which may be used on university marketing, social media, or webpages. If you're planning to take photos/video at your event, download a copy of our media consent form‌.
If you've any questions about media consent or documenting your public engagement activities, please contact sii-communications@glasgow.ac.uk
Research profiles
Staff Profiles
Official profiles are automatically created for members of research staff when they join the School. We encourage staff to establish and maintain these profiles, which are an excellent promotional tool for recording career development and presenting research activities.
Managing Your Profile
Staff profiles are managed and maintained using the Terminal 4 - SiteManager (t4). The following steps outline the t4 registration process:
Register for t4 access by completing either the self-guided or tutor-led training options. The attached consent form should then be downloaded and approved by the School's Principle Web Publisher, Jonathan Mitchell.
Once approved, consent forms should be sent to: Web Team, Corporate Communications, 1 The Square, University of Glasgow, G12 8QQ.
Your t4 login details and password will be emailed to you, allowing you to edit and update the 'Biography', 'Research Interests' and 'Teaching' sections of your staff profile.
Photographs can also be uploaded and should be resized/cropped to 160w x 200 px.
Editing your address, 'Additional info', 'Grants' & 'Publications'
Address & contact information:
Your name and address can be changed on the HR Self Service Core Portal (After logging in: click on 'Improve' in top-right of screen, then on the left under 'Employee Detail', click 'Contacts' - here you can add 'Word Address Details'). Your academic and job titles can only be changed by MVLS HR staff.
Your publications:
This is populated from the University publication system Enlighten, which is managed by the University library in conjunction with the MVLS Research Office. Contact deposit@lib.gla.ac.uk if your publication profile is incorrect. New staff members should send a publication list that covers previous affiliations to mvls-research-office@glasgow.ac.uk. All staff members should be in the habit of entering their papers into Enlighten regularly.
Your grants:
This list is managed by the MVLS Research Office. Not all types of income appear on this list; however, any information not included can be added to your 'Research interests' section. If there are errors or omissions, please email mvls-research-office@glasgow.ac.uk, highlighting the problem and providing the amendment.
Additional information:
This is drawn from a database which is currently managed by the MVLS Research Office. Please email mvls-research-office@glasgow.ac.uk to supply updates or amendments.
Help & FAQs
Further information, additional support and FAQs can be accessed at the University's Guide to Web Publishing
There is some limited administrative capacity to make minor changes and updates to your personal profile and group pages, which can be requested in an email to Jonathan Mitchell. Please note that update requests for your staff profile cannot always be prioritised. However, we will endeavour to provide advice or support wherever possible.
Social media

Find us on Facebook at www.facebook.com/uofgsii

Follow us on Twitter @uofgsii

Follow us on Instagram @uofgsii
For questions regarding social media, or to suggest a post, contact Information and Media Officer Jonathan Mitchell: jonathan.mitchell@glasgow.ac.uk.

Weekly Newsletter
Each Thursday, we send out our weekly newsletter, produced using Microsoft SWAY, via email, sharing news, announcements, information and events for staff and students in the School.
We aim to reduce mass emails by sending out this information in condensed form once a week.
To share content the weekly digest, email sii-communications@glasgow.ac.uk by 12noon on a Tuesday. Where applicable, we'll also add details to the internal Onelan digitial screens in the SGDB as part of this process.