University of Glasgow launches online exhibition: Extreme Imagination - Inside the Mind's Eye
Launched by the University of Glasgow's Centre for the Study of Perceptual Experience, this online exhibition collates the work of 22 visual artists and writers who either cannot visualise (aphantasia) or who have particularly vivid mental imagery (hyperphantasia). This first ever exhibition of works of art created by artists who have extremes of imagination casts new light on the creative brain, inviting us to consider the impact of these phenomena on the creative process. How can someone make anything without being able to imagine what they want it to look like? Is there a distinctly hyperphantasic kind of art?
Extremes of imagination teach us about human diversity: the easily-missed, potentially startling differences between individuals' inner lives. The work of the participating artists – and designers, architects, and writers – demonstrates the multiplicity of means by which things come to be made, challenging long-held beliefs about what it means to be 'creative'.
The exhibition is the result of the research of the Eye's Mind research group: Professor Adam Zeman (University of Exeter College of Medicine and Health), Professor Fiona Macpherson (Philosophy, Glasgow), Dr Crawford Winlove (Neuroscience, Exeter), Professor John Onians (Art History, University of East Anglia), Dr Matthew MacKisack (Cultural History, Exeter), and Susan Aldworth (independent artist).
Funded by the Arts and Humanities Research Council, and curated by the artist Susan Aldworth, the exhibition was first shown at the Tramway in Glasgow and the Royal Albert Memorial Museum in Exeter in 2019. The new online version has been created by Professor Fiona Macpherson and funded by her Centre for the Study of Perceptual Experience at the University of Glasgow.
The Eye's Mind team came together in 2015 to investigate the extremes of human visual imagery. Their research sparked a worldwide response from thousands of people who contacted the team, many expressing great relief that their mysterious inner worlds could finally begin to be explained. Much to the team's surprise, these responses included many aphantasic artists, who went on to inspire the creation of this exhibition.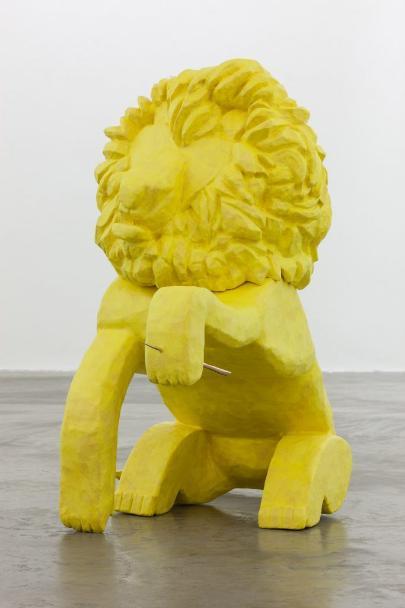 Image: Isabel Nolan, A lion with a thorn in his paw, 2015. Courtesy Kerlin Gallery
Having shown the exhibition physically at two venues – once in Glasgow at Tramway and once at the RAMM museum in Exeter, Professor Fiona Macpherson believes that the exhibition should be made available to view online, so that it can be shared with audiences who could not attend the exhibition in person, with the addition of introducing accessibility features to make the exhibition available for people with access needs. In response to the Corona Virus outbreak and restrictions on public gatherings, institutions around the world have been making their collections available online. In light of this, it feels even more important to make this exhibition available to a wider audience, especially when gaining a better understanding of our imaginative capabilities and 'ways of seeing' is more urgent than ever.
Professor Macpherson said, "There is now huge interest in aphantasia and hyperphantasia around the world, with more and more people finding out that their sensory imagination is not like that of others. Putting our exhibition online gives people a chance to consider the connections between visual imagination and creativity. We also feature online my exhibit trying to communicate the nature of visual imagery for those who lack it, the artists' interviews, the essays in the exhibition catalogue, talks from the associated conference about our research, a test of your imagination, and other resources for those interested in extremes of imagination."
One of the exhibiting artists, Dominic Mason, in discussing his thoughts shared by many people who discover they have aphantasia, said "The realisation that I had aphantasia had a huge impact on the understanding of my practice, and shed light on the reasons for the differences I was all too aware existed between my working methods and those of many of my peers".
In previous responses to the exhibition, members of the public have offered their feedback, demonstrating the importance of this work to their own understanding of their experiences. One visitor commenting, "I am 100% aphantasic, I found this exhibition really eye-opening. I like how it is merging science with helping people to better understand themselves."
The online exhibition is live on Friday 24 April 2020
---
First published: 23 April 2020