Wyndford
Source: High flats at Wyndford Road under construction, late 1960s, University of Glasgow Archives, 'Homes in High Flats' collection, DC127/22
To find out more about what it was like to live in a high rise flat in Wyndford follow the following links to read responses to our online questionnaire or listen to extracts from oral histories conducted for the project:
A Brief History of Wyndford Estate
The Wyndford estate was designed by Ernest Buteux, chief technical officer for the Scottish Special Housing Association (SSHA) from 1959-78. It was built on a 55 acre site at the old Maryhill barracks, was estimated to cost £4million. The plan included four 26-storey blocks including 150 flats each; five 15-storey blocks; three 7-storey blocks; three and four storey courtyard housing; two primary schools; a nursery school and several shops. This accommodation would house around 1,900 families, totalling some 6000 people, giving the estate a density of 164 per acre.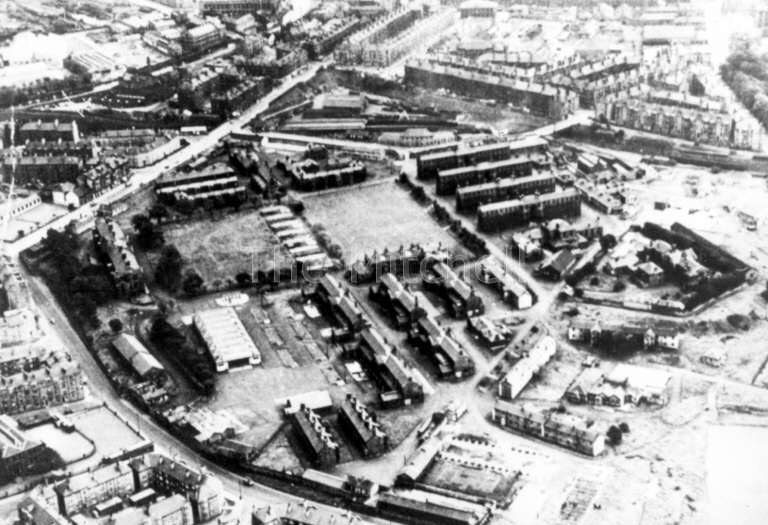 Source: Maryhill Barracks, 1945, ©Virtual Mitchell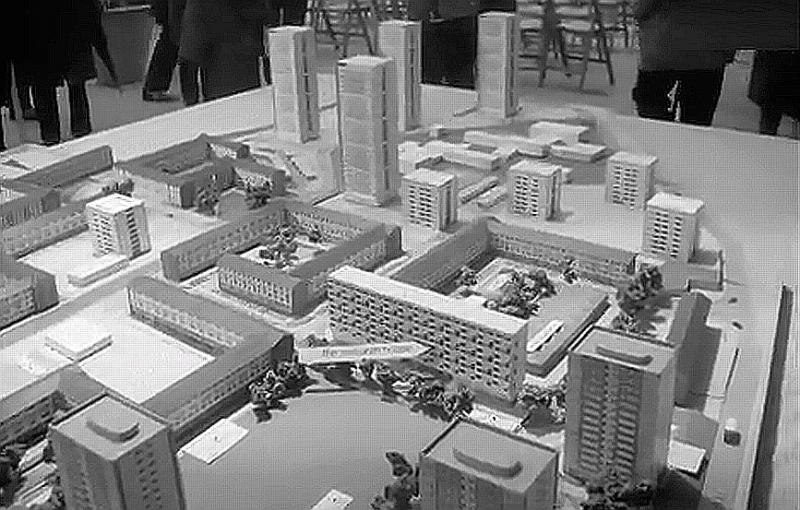 Source: Developer's Model Plan of the Wyndford Housing Estate, Maryhill, Glasgow 1960s, ©OldGlasgow.com
This massive undertaking was built at a frenetic and constant pace between 1961-69. In the first development in 1961, five mark III 15-storey blocks were completed (along and around Glenfinnan Road); in 1962, work was initiated on 637 homes in 4-storey maisonettes and flats; in 1963, seven 8-storey towers; finally, between 1965-69, four 26-storey point blocks (along Wyndford Road at the edge of the estate) plus a 9-storey balcony access block of maisonettes.
This rate of production was only possible due to the employment of cutting edge building materials and methods. Built in part by direct labour, in part by John Laing Constrction Ltd, the pace of construction was enhanced, and the costs controlled, through extensive use of 'systems building' and 'no fines concrete'.
Wyndford's design was heavily influenced by 'townscape' architectural planning popular from the later 1950s. This meant that, in the Wyndford development, space was organised so as to incite 'communal feeling' amongst tenants.
The 26-storey blocks at Wyndford Road had six flats on each floor, all were connected by a communal balcony intended to re-create the working class tenement 'stairheid' and encourage neighbourliness. 'Community' was also to be fostered via the enclosure of open space. This explains the architect's decision to preserve the barracks wall as a boundary for the estate. The estate was to function as an urban village will all the amenities enclosed within this wall. The low rise four storey flats were also built around interconnected court yard areas designed to encourage social interaction (see left hand side of the photograph below).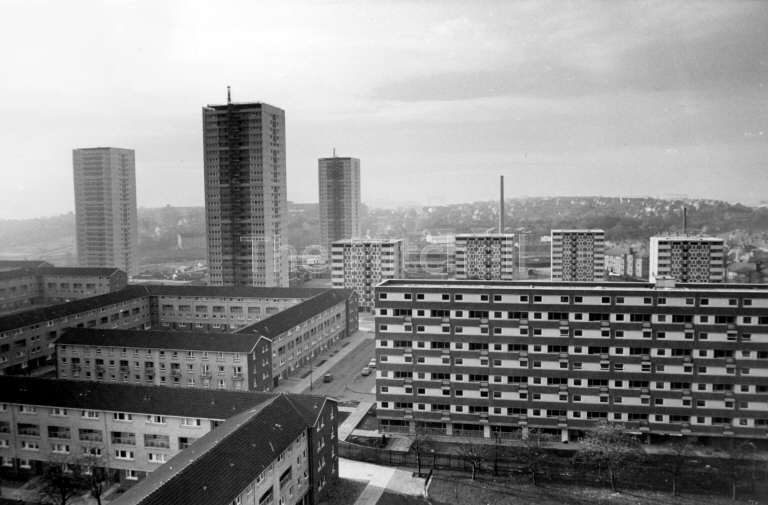 Source: Wyndford, 1967 ©Virtual Mitchell
Wyndford was built as a 'mixed development' which meant that all sorts of households would be catered for: large families with young children; couples with grown up children; couples without children; single people and elderly people.
An article in the Glasgow Herald in 1967 stated that the Wyndford estate would 'not be a ghetto for young families, but a balanced community'.
In the 1960s, there was a high rate of applications for flats on the estate and residents considered themselves a 'cut above' as their landlord was SSHA rather than the Corporation, and SSHA had higher entry qualifications.
Source: Wyndford 1967 ©Virtual Mitchell
By the mid-1970s this was no longer the case, with rising rates of application for transfer out of the estate, the Wyndford estate was being characterised as one of Glasgow's 'new slums'. In 1978 Glasgow District Council designated the estate a site of 'multiple deprivation' and it was included within the 'priority area' for redevelopment which was the 'Maryhill Corridor'. By the 1980s images of the estate were used often in association with the portrayal of Glasgow as a tough, hard city, a recycling of the old Gorbals 'no mean city' mythology. The scheme appeared often on ITV's Taggart.
High Rise Flats in Wyndford
There are two seperate sites of high flats in Wynford: around Glenfinnan Road and Wyndford Road. Pearl Jephcott did not survey the 8 storey point blocks or 9 storey maisonnette deck access block.
The five 15-storey blocks at the front of the estate near Maryhill Road: at Beauly Place, Strathcarron Place, Fogo Place, Strathy Place and 10 Glenfinnan Road, were completed in 1961. Right of the photograph below.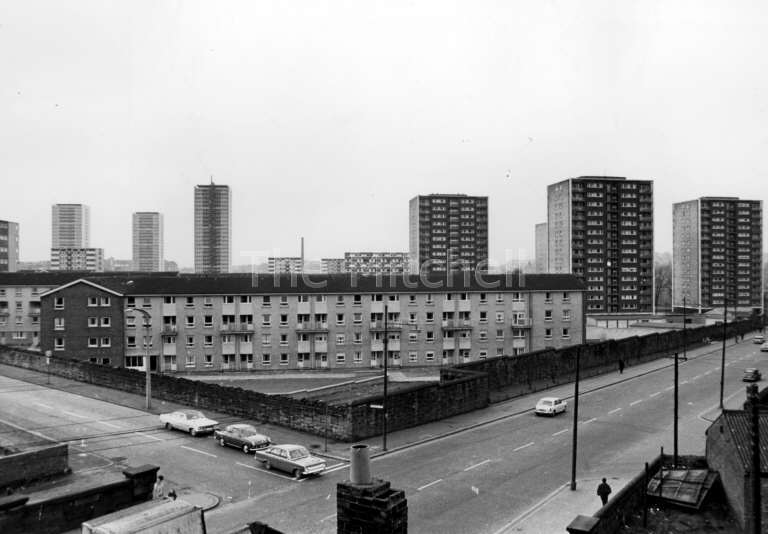 Source: Wyndford, 1967 ©Virtual Mitchell
The four 26-storey blocks along Wyndford Road at the southern periphery of Wyndford were completed in 1969.
Source: 'Mrs ... Her one-person flat is on the 19th floor. Wyndford, Glasgow', P. Jephcott, Homes in High Flats (Oliver & Boyd: Edinburgh), 1971, Plate 11
Source: Wyndford Road High Flats today

This work is licensed under a Creative Commons Attribution-NonCommercial-ShareAlike 4.0 International License.
Some material on this webiste is not being made available under the terms of this licence.
These are:
Third-Party materials that is being used under fair use or with permission (photography owned by archives, blog contributors or from WikiMedia Commons). The respective copyright/Creative Commons licence details for use of third-party material should be consulted.