Moss Heights
Source: Moss Heights around 1953, ©The Glasgow Story (Glasgow City Archives, Photographic Series)
To find out more about what it was like to live in a high rise flat in Moss Heights follow the following links to read responses to our online questionnaire or listen to extracts from oral histories conducted for the project:
Moss Heights: Glasgow's pioneer in high rise housing for families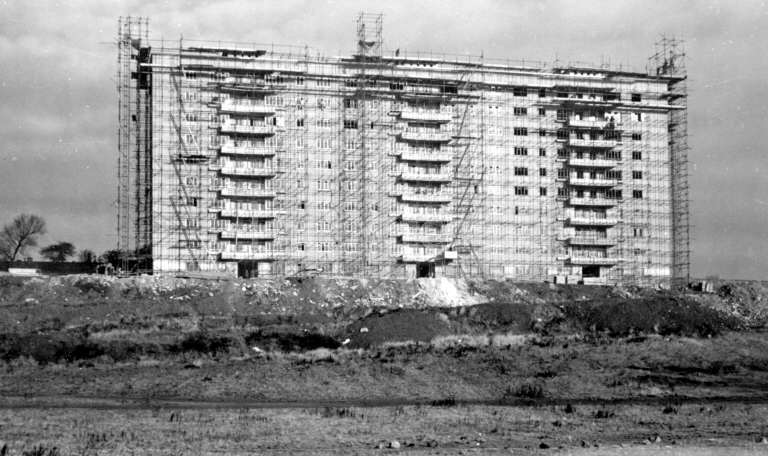 Source: Moss Heights under construction, Berryknowes Road, Nov 1952 ©Virtual Mitchell
Moss Heights, sited in Cardonald in south west Glasgow, was Glasgow Corporation's first experiment in the use of high rise flats for families (Crathie Court, completed in 1952, had been built for single women).
Originally, the site had been scheduled for the erection of 180 houses in three-story tenements, but in 1946 the housing committee authorised Ronald Bradbury, designer of the flats and then Housing Director, to substitute multi-story blocks varying in height between 8 and 10 storeys.
Built between 1950-54 using a reinforced concrete frame structure, the whole development at Berryknowes Road accommodated 263 houses, comprising 219 four-apartment flats in three ten storey blocks, and 48 three and four apartments' flats in two four storey blocks. Therefore a greater yield of family homes would be supplied, while still maintaining a low gross density of 17 houses per acre.
However, Moss Heights was not only an experiment in the land-use economy of high buildings, but also sought the establish the claim that it was possible to achieve superior living conditions for the working classes at high densities if, crucially, design observed cutting-edge 'modern' specifications.
Modern luxury flats
Source: Moss Heights in 1955, ©The Glasgow Story (Burrell Collection Photo Library, 1955 Survey)
Moss Heights was built and promoted as 'modern luxury flats', equipped with 'all modern amenities'. This meant that themes of space and comfort, privacy and efficiency, hygiene and the separation of functions were all prominent in the design of the interiors of the flats.
All flats had an internal fitted kitchenette and bathroom, a living room and lounge, and separate bedrooms for parents and children. Built-in storage space and shelving was provided in the kitchenette, hallway and bedrooms, while the sound-proofing of walls and limiting of each floor to two dwellings aimed at securing the maximum of privacy possible in flatted accommodation. Perhaps most lavishly, the flats incorporated modern central heating throughout, ensuring constant heat and hot water all year round.
'Modernity' was also realised at Moss Heights by replacing the street-block and courtyard layouts of the overcrowded Victorian slum tenements with 'open planning' around the perimeter of the blocks. Built along the contour of a high, north-facing ridge at Cardonald cemetery, the landscaping of Moss Heights ensured not only a maximum of daylight for tenants and a panoramic view of south Glasgow, but secured a large area of open green space around the foot of the blocks as well as the embankment sweeping up to them. This was used for a playing field and children's play park. This use of green space was perhaps not entirely surprising given the development's proximity to Moss Park, a sought after and popular interwar housing estate in which all houses had a substantial garden. Garden City aesthetics were obviously influential.
Unfortunately for the Corporation there were a number of 'snags' in the construction and design of the high flats. The Evening Times reported on 25 June 1954 that one of the most costly innovations of the development, the lifts, were too small to carry furniture and coffins, meaning that such items had to be hauled up and down the internal staircase. Perhaps even more worryingly, on 3 October 1956 the Herald reported that a number of flats had been flooded after external drains had become blocked, water having flowed off the roof, on to upper-level balconies, and under the French windows into tenants' living rooms.
It would seem these teething problems were overcome and Moss Heights remained popular within the local social housing market. From their completion in 1954 to the 1980s there was a high rate of requests for flats in the development and a low rate of transfers out.
Moss Heights were seen as a 'cut above' and different from other high flats in the city.
This was probably because the flats were expensive to build and therefore rents were high. It was projected that each flat would cost £1400 to build. At the completion of construction this had increased to £2500 (largely due to the experimental nature of construction, the cost of including one lift per 20 flats and the cost of fitting the central heating system). Rents at Moss Heights were therefore approximately £18 per year higher than the average rate for comparable low rise flats elsewhere in the city. The heating bill was additional £40 per year and annual rates were £30-6s/6d.
Unsurprisingly, the Corporation initially had difficulty finding tenants who could afford the rent and bills. As a result many early residents of Moss Heights were in higher income groups. In the early years, Moss Heights was an aspirational place to live. It was seen as 'respectable' and housed 'a good class of people'.
Here's a clip of Moss Heights in a Corporation promotional film 'Mungo's Medals' which gives a sense of the way in which the flats were promoted by the Corporation and the kind of people who lived there in the early days.
Moss Heights today
Source: Moss Heights following recent redevelopment
By the late 1980s/1990s, Moss Heights was experiencing a higher level of turnover of tenants and demand for the flats was not as high as it had once been.
In 2008, GHA (Glasgow Housing Association) announced that it was going to spend £14 million refurbishing the flats. This work, now completed, included the installation of new kitchens, bathrooms, re-wiring, heating and overcladding.
The Evening Times reported at the time of the announcement that: 'The decision ends years of uncertainty and frustration for the 200 tenants and their families' who 'were desperately trying to find out if their homes were to be upgraded or flattened'. The article ends with a re-iteration of the old problem: 'Trouble had previously arisen when large items of furniture - and sometimes coffins - could not fit inside the small lifts'.

This work is licensed under a Creative Commons Attribution-NonCommercial-ShareAlike 4.0 International License.
Some material on this website is not being made available under the terms of this licence.
These are:
Third-Party materials that is being used under fair use or with permission (photography owned by archives, blog contributors or from WikiMedia Commons). The respective copyright/Creative Commons licence details for use of third-party material should be consulted.