Fleece to Fashion: Economies and Cultures of Knitting in Modern Scotland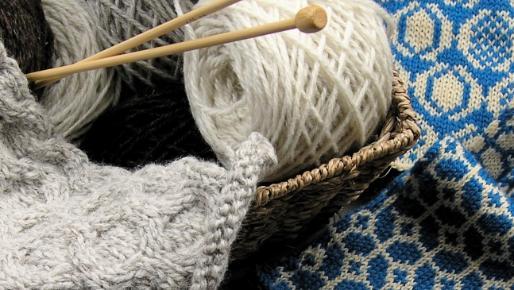 About the project
Fleece to Fashion: Economies and Cultures of Knitting in Modern Scotland.
This 3-year AHRC funded research project makes an original and timely contribution to knowledge of knitted textiles in the Scottish context at a moment when the creative economy sits firmly within Scotland's economic strategy.
Following the production cycle from fleece to fashion, the project interrogates why and how knitting has adapted to and survived modernisation to become a distinctive heritage brand in the modern Scottish economy and culture. Today, production of knitted textiles makes a vital contribution to the Scottish economy (textiles are second only to whisky in their export and recognition value) ranging from wool production to designer fashion and incorporating: sheep husbandry; spinning and dying; design and production of cloth and clothing; textile tourism; and retail.
Throughout the 3-year project a variety of engagement activities will take place, including a conference, makers workshop and more. Information on upcoming activities will be added to this web page.
Our project partners include:
Di Gilpin Knitwear: A hand knitting design business which produces yarn, patterns and bespoke items and employs c.90 handknitters across Scotland.
A' the Airts: A Community Arts and Crafts centre in Sanquhar, Dumfriesshire which runs the Upper Nithsdale Arts and Crafts Community Initiative (UNACCI) which aims to impact the economic climate of Upper Nithsdale by resurrecting hand and machine knitting of the distinctive Sanquhar design.
Shetland Museum and Archives: The Museum holds the pre-eminent collection of knitted textiles in Scotland.
Border Mill: A small fibre spinning mill in the Scottish Borders, specialising in spinning fleece for owners & breeders across the UK and Europe.

About the team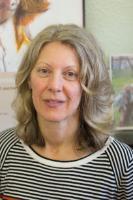 Principal Investigator: Professor Lynn Abrams. Chair of Modern History, University of Glasgow.
Lynn Abrams is Professor of Modern History in the School of Humanities at the University of Glasgow. Her research has focused on women and gender relations since c.1750 in Britain and Europe and on oral history practice and theory. Her interest in knitted textiles was sparked by research on women in Shetland, published in Myth and Materiality in a Woman's World: Shetland c.1800-2000 (Manchester 2010) which led to a series of RSE funded workshops and a network on Scottish knitted textiles. She is currently writing a book on postwar womanhood in the UK which includes the study of changing fashions and textiles in the 1960s. Her past publications also include The Making of Modern Woman: Europe 1789-1918 (2002); Gender in Scottish History since 1700 (2005) and Oral History Theory (2016).
Co-Investigator: Professor Marina Moskowitz. Lynn and Gary Mecklenburg Chair in Textiles, Material Culture, and Design, University of Wisconsin-Madison.
Marina Moskowitz received her PhD in American Studies at Yale University, working on the role of material culture in building national communities of American consumers in the late nineteenth and early twentieth centuries. Moskowitz later moved to Scotland to take up a post in History and American Studies at the University of Glasgow. While working at the University of Glasgow she taught across various periods of American history, as well as teaching material culture and public humanities to graduate students and advising a cohort of doctoral students. In her current role at the University of Wisconsin-Madison, she explores historical research from the perspective of makers and theorists in design and material culture.
Co-Investigator: Dr Sally Tuckett. Lecturer (History of Art), University of Glasgow.

Sally Tuckett is lecturer in dress and textile histories at the University of Glasgow. Her research has focused on the clothing and textile cultures of eighteenth and nineteenth-century Scotland, working closely with museum and archive collections. She has published on national identity and dress in the eighteenth century, and Scottish textile cultures including Ayrshire whitework, tartan and the Turkey red dyed and printed cotton industry. Her current work is looking at the links between Scottish linen production and clothes of the enslaved in North America.
Research Associate: Dr Roslyn Chapman.
Roslyn Chapman is a research associate on the Fleece to Fashion Project at the University of Glasgow. Her PhD thesis was on the History of the Shetland lace knitting industry in the eighteenth and early nineteenth century and although she has researched knitted textiles in other regions, her focus has remained on Shetland. She has recently collaborated with Dr Carol Christiansen, textile curator at Shetland Museum and Archives on the RSE funded Nottingham Shetland lace project, and the AHRC funded Digitisation Strategy for Shetland Museum's Recognised Textile Collection.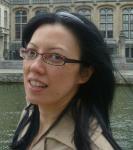 Research Assistant: Lin Gardner.
Lin Gardner is a post-doctoral research assistant for the project. She recently completed an AHRC-CDA funded PhD titled, 'Mechanising the Needle: The development of the sewing machine as a manufacturing tool, 1851-1980'. Her research used both archival sources and material culture to explore the impact of stitched object construction and human tacit skill on the development of mechanised production. Lin initially trained as a woven textile designer at the Glasgow School of Art. And after a short time working in the Scottish woollen industry, she was a professional costume maker for theatre, film and television.
Contact us
For general enquiries please contact arts-fleecetofashion@glasgow.ac.uk
University of Glasgow wool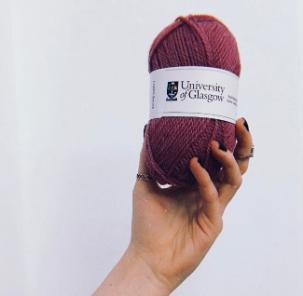 The University of Glasgow has created its own brand of knitting yarn made with wool from sheep reared on its own farm.
Cochno Wool is a single-origin double-knit, worstead spun yarn, sourced from the Scotch Mule and Aberdale sheep flock at the University's Cochno Farm.
The venture has been part-funded by the University's Chancellor's Fund. The ball band design features the Cochno Stone, a Neolithic stone with cup marks located in the vicinity of the farm near Clydebank.
A pattern book is now available, with designers across Scotland contributing their designs for a range of knitted items inspired by the architecture of the University of Glasgow.
Buy University of Glasgow Wool and the book from our University Shop website.
Curators' Colloquium on Knitted Textiles: Friday 29 January 2021
This event shared knowledge and practice regarding the collection, conservation, preservation and interpretation of knitting collections
Knitting is often a hidden part of a national or local collection, yet given the importance of knitted textiles to the story of Scotland, it is imperative to raise awareness and share information and knowledge so that garments which carry so much meaning are appreciated, preserved and interpreted. We know that while our national collections may have specialist curators, many other smaller museums and collections do not. This colloquium will share knowledge and practices amongst curators and custodians.
Presentations addressed a wide range of issues including: the traceability, identity and emotional investment in knitted garments; acquisition and display of knitted textiles; the care and conservation of knit collections; the challenges of interpreting knit collections for diverse audiences. There will be time for questions and discussion.
While we are unable to host you at the University of Glasgow, this online format allowed us to welcome participants from further afield than would have been possible.
Speakers
Carol Christiansen: Curator and Community Museums Officer at Shetland Museum and Archives. As curator, her main responsibility is the Museum's nationally recognised textiles collection, which has a large knitted textile component.
Jen Gordon and Federica Papiccio: Assistant Curators, Scottish Fisheries Museum, Anstruther, where they are responsible for the Scottish Gansey project.
Frances Lennard: Professor of Textile Conservation at the University of Glasgow, Frances led the University's Centre for Textile Conservation and Technical Art History until 2020.
Lisa Mason: Assistant Curator within the Art & Design department at National Museums Scotland, Trustee of the Bernat Klein Foundation, and Membership Secretary of the Dress and Textile Specialists.
Helen Wylde: Senior Curator of Historic Textiles at National Museums Scotland, where she is responsible for European textiles and dress from the medieval period to 1850.