Professor Andrew Prescott curates pioneering media artist's first UK solo show
Issued: Fri, 23 Mar 2018 11:03:00 GMT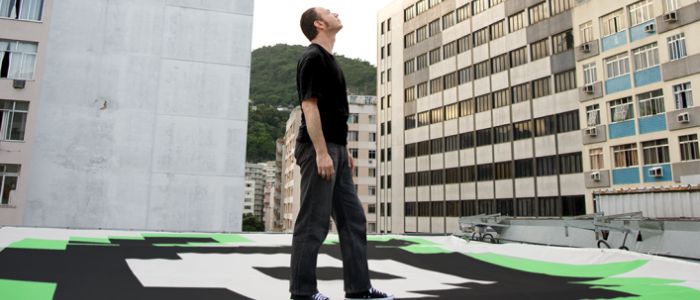 A University of Glasgow professor has curated the first UK solo show of a pioneering media artist.
Professor Andrew Prescott, UofG's Professor of Digital Humanities, has worked with artist Eduardo Kac who helps people to see poetry in an entirely new way.
The Poetry for Animals, Machines and Aliens: The Art of Eduardo Kacis taking place at London's Furtherfield Gallery from Saturday 7 April.
The exhibition is one of the activities sponsored by the Digital Transformation' strategic theme of the Arts and Humanities Research Council (AHRC), the largest funder of Arts and Humanities Research in the UK.
Professor Prescott, the Theme Leader Fellow for the Digital Transformations theme, said: "One of the most exciting outcomes of the work I have undertaken as Theme Leader Fellow for the AHRC's Digital Transformations theme has been the way it has identified opportunities for intellectual cross-fertilisation between creative arts practice and humanities research.
"The way in which Eduardo Kac's work interrogates text and communication raises many questions about how arts and humanities engages with the digital world. I am very honoured to be curating this wonderful exhibition, which will be not only highly accessible but also pose challenging intellectual questions."
Eduardo Kac has been a pioneer in exploring the use of new technologies to create innovative poetic experiences, experimenting with a range of technologies since the 1980s including fax, photocopiers, LED screens, the French videotext service Minitel, holography, conductive ink, and a variety of digital and network technologies.
Kac has been at the forefront of the development of digital poetry and has published an influential guide to media poetry.
One of the highlights of the exhibition is Kac's Lagoogleglyph, a work made for viewing from space. Covering a field in Finsbury Park it is optimised by Kac for viewing through satellite imagery and visible in Google Earth.
The exhibition includes two of his early digital poems, Accident (1994), in which the poem is perceived as a dynamic infinite loop, and Letter (1996), which uses virtual reality markup language to create a textual spiral that the reader can explore and investigate from every conceivable angle.
It will also feature the first London showing of Kac's space poem, Inner Telescope, performed in 2017 on the International Space Station by the French astronaut Thomas Pesquet.
Among Kac's most beautiful creations are his holopoems, which use holography to free the text of poems from the page. Readers of Kac's holopoems move around the poem and view it from different angles.
The Poetry for Animals, Machines and Aliens: The Art of Eduardo Kacwill be on show at Furtherfield Gallery, Finsbury Park, London from Saturday 7 April - Monday 28 May 2018.
---
Find out more