New WW1 Trench expansion to be unveiled
Visitors will be able to explore the latest new addition to the Pollok Park WW1 trenches during an open day to be held on Sunday.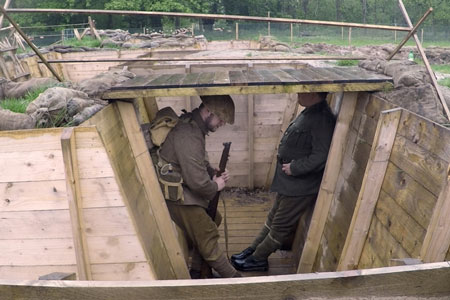 Visitors to the World War I learning facility Digging In will be able to explore the newly built communication trench and dugout behind the Allied front line and use trench periscopes to spot clues to enemy activity in No Man's Land.
Actors will bring tales from the trenches to life during Sunday's open day from 12 noon, as well as feature activities, talks and living history displays on the theme of 'Technology: A Matter of Life and Death'.
Special activities for children include a scavenger hunt and a chance to make and try out their own periscopes. Talks by Professor Tony Pollard of the University of Glasgow and other experts will explain how the technology of camouflage, weaponry, trench construction and victualling evolved, as each side tried to gain the upper hand and better protect its soldiers during the Great War.

The facility was launched last September with funding from the Heritage Lottery Fund and the Robertson Trust. Tours especially for primary, secondary and trainee teachers will provide a free CPD opportunity, highlighting the educational activities on offer at Digging In.
Dr Olivia Lelong, Director at Northlight Heritage, said: 'Digging In is about trying to convey the enormous stresses that World War I imposed on people - both on the fighting front and at home - and how they managed to maintain their humanity in the face of that. With the award from the Covenant Fund, we can engage veterans with real-world experience of the stresses of conflict and address issues that are highly current as well as historical. Volunteer involvement has been one of the keys to the project's success so far and we're looking forward to building on that with the support of our funders.'
Professor Tony Pollard, Director of the Centre for Battlefield Archaeology at the University of Glasgow, said: 'Digging In is an ambitious project and has already proved its value as an educational facility. It's entering a second phase of development and we're delighted to now have the capacity to engage with veterans and others from the military sphere. As an archaeologist I work with veterans on various other projects, including Waterloo Uncovered, and I know what a rewarding exchange of ideas and experiences this can be. Digging In is all about public engagement and, being based at the University of Glasgow, it's wonderful to see an academic institution such as this bringing history out of the classroom to wider audiences.'
The Covenant Fund has awarded a grant of £99,007 to the project in addition to the Heritage Lottery Fund grant of £99,600 and the Robertson Trust's £7,500. The Covenant Fund award is designed to encourage integration and mutual understanding between the civilian and Armed Forces communities. It is enabling veterans to get involved in the project through organisations like Combat Stress, SkillForce and Troops to Teachers. Vets can offer their skills and knowledge to construction and maintenance work, learn to conduct research and help visitors to the trenches understand what WWI soldiers experienced.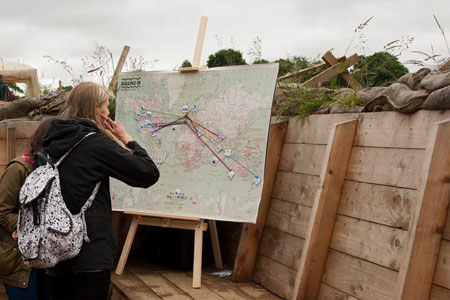 In September, veterans will also help create a trench garden behind the reconstructed German line, to demonstrate how soldiers on both sides of the Western Front created trench gardens as aids to their mental health - creating small patches of beauty, order and life in the midst of so much chaos, destruction and horror.
Digging In is a hub for learning about the human experience of World War I, with a programme of events and hands-on learning activities to help convey how soldiers managed life in the hostile, stressful environment of the Western Front as well as the conflict's impact on communities on the Home Front.The trench reconstructions are open for regular events and school visits until November 2018.
Since September 2015, the facility has welcomed over 2,500 visitors, including 500 schoolchildren and members of youth clubs. Children take part in a learning programme designed to deliver to specific curriculum areas, including Social Sciences, Technology, Languages, Expressive Arts and Health & Wellbeing.
Volunteer involvement is core to the project, with students, members of the public and historical re-enactors Scots in the Great War having already contributed more than 1,600 hours of their time. Volunteers help dig and dress the trenches, assist with school visits and open days, conduct research and develop digital content for the project's website and app.
Digging In is being delivered by a partnership formed of Northlight Heritage, Glasgow City Council, the University of Glasgow and Stewart's Melville College.
Defence Secretary Michael Fallon said:'The new fund strategically targets areas of need. Every year, this £10m will go towards worthy projects that fully promote the principles of the Covenant.'
Lucy Casot, Head of HLF Scotland, said:'The impact of the First World War was far reaching, touching every corner of the UK. Since April 2010, the Heritage Lottery Fund has awarded over £70million to more than 1,300 projects – large and small – that are marking this global Centenary; with our small grants programme, we are enabling even more communities like those involved in Digging In to explore the continuing legacy of this conflict and help local young people in particular to broaden their understanding of how it has shaped our modern world.
---
First published: 21 September 2016