Gaelic expert appointed Vice-Principal and Head of College
Professor Roibeard (Robby) Ó Maolalaigh has been appointed Vice-Principal of the University of Glasgow and Head of the College of Arts.
This article is also available in a Gaelic translation
Professor Ó Maolalaigh will take up the post on 1 Jan 2015, succeeding Professor Murray Pittock who has held the post since August 2010.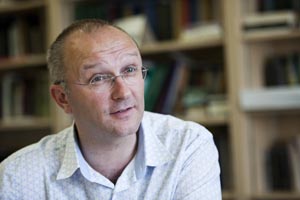 Prof Ó Maolalaigh was born and educated in Dublin and gained his BA Hons Degree in Irish and Mathematics at University College Dublin and undertook a postgraduate Masters degree in the Gaelic languages and literatures of Ireland and Scotland. He completed a PhD at the University of Edinburgh in Gaelic historical phonology before accepting a lectureship in 1993.
In 2001 he was made Assistant Professor at the School of Celtic Studies, Dublin Institute for Advanced Studies and, in January 2005, was appointed to a personal chair in Gaelic at the University of Glasgow and was Head of the Department of Gaelic Studies between 2007 and 2011.
In April 2010 he was made the inaugural established Chair of Gaelic at the University of Glasgow and he currently holds the position of Head of Sgoil nan Daonnachdan / School of Humanities.
Prof Ó Maolalaigh said: "Since 1451 the College of Arts has specialised in developing wide-ranging expertise and world-leading teaching and research in the Arts and Humanities. I am deeply honoured to have been offered this position and I look forward to working with senior management and colleagues in the College to further enhance the Arts and Humanities at Glasgow and the University generally."
Principal and Vice Chancellor of the University of Glasgow, Professor Anton Muscatelli, said: "Robby is a renowned and well respected figure within academia and across Scotland and beyond for his promotion of language, cultures and cultural studies. I would like to congratulate him on his new role as Vice-Principal and Head of the College of Arts at the University of Glasgow. I am certain he will have a lot to contribute to the continuing success of the College and the wider work of the University and I look forward to working with him in the future."
Professor Murray Pittock said: "The last five years as Dean and then Vice-Principal and Head of the College of Arts have been both enjoyable and incredibly rewarding. Arts at Glasgow has made major steps forward in research income, esteem, entry standards, knowledge exchange, income, international profile and ranking, equality and in graduate education, with the new national Graduate School about to open here on 1 April. We have appointed 65 new staff in new areas across the College, and the proportion of women professors has increased by a third. The College has enjoyed and continues to enjoy the support of a truly outstanding management team, and I wish Robby as one of its most senior members all the very best in his new role."
---
First published: 7 March 2014