Robert the Bruce letter scores major media success
Issued: Wed, 12 Jun 2013 08:16:00 BST
A chance discovery by Professor Dauvit Broun of a copy of a letter written by Robert the Bruce to Edward II of England in the run up to the Battle of Bannockburn, led to extensive media coverage when it was unveiled at the end of May
A chance finding made by Professor Dauvit Broun from the School of Humanities led to extensive media coverage during May.
The discovery of a letter in the British Library, written by Robert the Bruce to Edward II of England, sheds new light on the relationship between Scotland and England in the run up to the Battle of Bannockburn.
The letter, which was sent in 1310 reveals how, when faced with an English army marching into the heart of Scotland, Robert the Bruce made an eloquent appeal for peace, on the understanding that Edward would recognise Scottish independence.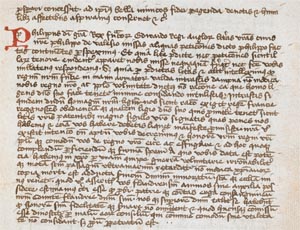 Professor Broun said: "The letter reveals a couple of things: firstly, Bruce's tone is extremely conciliatory; he seems to be offering to do anything possible to establish peace. However, he is nonetheless plainly addressing Edward as one king to another. There is no doubt that the bottom line here is that Edward should recognise Robert as king of the Scots and the Scots as separate from the English.
"The writing of this letter should be seen as a bold move by Bruce who had perhaps recognised that the tables were turning and he could stand his ground in the face of an advancing English army and open negotiations with the king. It allows us a clear sense of Bruce's terms, which were basically anything as long as Scottish independence is recognised."
The story featured prominently across most of the national UK and Scottish press and broadcast media, including BBC Radio 4 and BBC online. The British Library Medieval Manuscripts blog also saw a huge surge of interest, largely as a result of the Bruce letter.
---