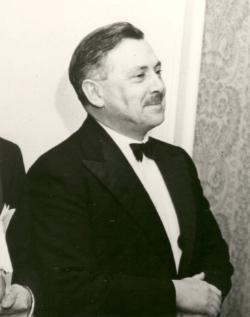 Annual Professor Angus Matheson Memorial Lecture
The annual Angus Matheson Memorial Lecture was founded by Celtic & Gaelic in 2006 to commemorate the appointment of the first Professor of Celtic at the University of Glasgow in 1956. We are pleased to invite all interested parties to attend.
Chaidh Òraid Chuimhneachaidh Aonghais MhicMhathain a stèidheachadh leis an Roinn ann an 2006 mar chuimhneachan air ciad Ollamh na Ceiltis aig Oilthigh Ghlaschu ann an 1956.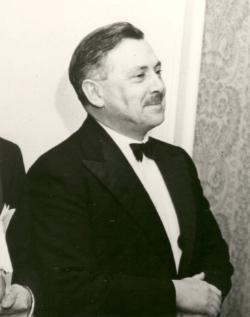 Angus Matheson Memorial Lecture 2023
Tuesday 5 December 2023 at 5.30pm
in the Boyd Orr Building
Professor Máire Ní Annracháin
From a single face to the whole world: Somhairle MacGill-Eain's encounters with the feminine
It is part of Scottish literary folklore that everyone remembers where they were when they first read Dàin do Eimhear by Somhairle MacGiIl- Eain (Sorley Maclean). It remains renowned as a suite of some fifty anguished poems of lost love. In this lecture I will argue that the resonance of those poems derives as much from their creative engagement with earlier Gaelic tradition as from the depth of the poet's passionate mourning of his loss. I will go on to argue that what was presented in the early poems as a personally calamitous heartbreak, expanded in the later work to become a more general encounter with the feminine, often described in terrifying terms. Beyond that again, I will show that a knowledge of the Gaelic tradition makes clear how the initial experience of heartbreak was transformed to the point where it formed the basis of an all-encompassing relationship with the wider world.
Máire Ní Annracháin is Emerita Full Professor of Modern Irish literature in University College Dublin. She has published widely and often comparatively on various aspects of Irish and Scottish Gaelic literature. Her doctoral thesis was on the poetry of Somhairle MacGill-Eain, which was published as Aisling agus Tóir: an Slánú i bhFilíocht Shomhairle MhicGill-Eain. Her recent work has focused on the traditional roots, both overt and subtle, of contemporary Gaelic writing. She has worked closely with Gaelic scholars in Scotland, and has spent periods of sabbatical leave in the University of Edinburgh, Sabhal Mòr Ostaig and the Centre for the Study of Cultural Memory in the School of Advanced Studies, University College London. She is a member of the Royal Irish Academy where she currently chairs its Committee for Irish Language Studies and Celtic Cultures. A special edition of the journal COMHARTaighde was published in recognition of her work in 2022.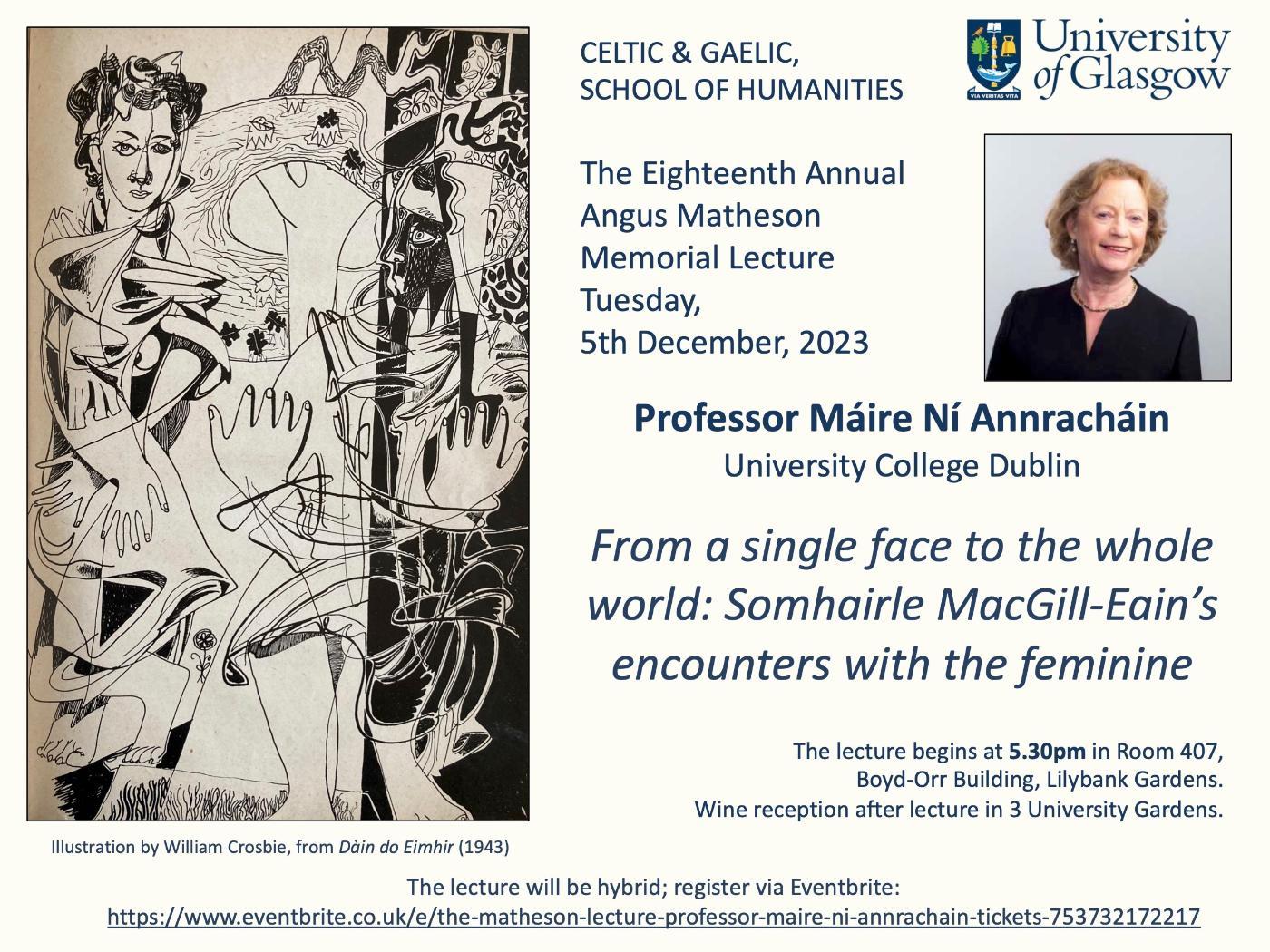 Angus Matheson Memorial Lecture 2022
The Seventeenth Annual Angus Matheson Memorial Lecture
Tuesday 6 December, 2022
Professor Clare Downham, University of Liverpool
'Arise, oh handsome valiant host!' Munster, Limerick and the Hebrides, c. 950-1150
The lecture begins at 5.30pm in the Lecture Theatre (208), Sir Alexander Stone Building, 16 University Gardens
Tea and coffee from 5pm before the lecture
Wine reception after lecture in 3 University Gardens
The event can also be joined online.
About the speaker
Clare Downham is Professor of Medieval History at the Institute of Irish Studies, University of Liverpool. Educated in St Andrews and Cambridge, she worked in Dublin and Aberdeen before coming to her current post in Liverpool. Prof. Downham is a leading authority on Viking-Age history in Ireland and Britain, and author of Viking kings of Britain and Ireland: the dynasty of Ívarr to A.D. 1014 (2008); and Medieval Ireland, A.D. 400–1500 (2018).
Angus Matheson Memorial Lecture 2021
16th Annual Professor Angus Matheson Memorial Lecture
Supported by Paul Burns
Tuesday 14 December 2021 at 5.30pm
'Mo dhachaigh eadar dhà dhùthaich' - àite ann am bàrdachd Ruairidh MhicThomàis
Bidh An t-Àrd-Ollamh Michelle NicLeòid a' lìbhrigeadh òraid tro mheadhan na Gàidhlig, a' comharrachadh 100 bliadhna bho rugadh Ruairidh MacThòmais.
Prof Michelle MacLeod will deliver a lecture in Gaelic, with simultaneous interpretation to English, marking 100 years since the birth of Professor Derick Thomson.
All welcome but please register for a free ticket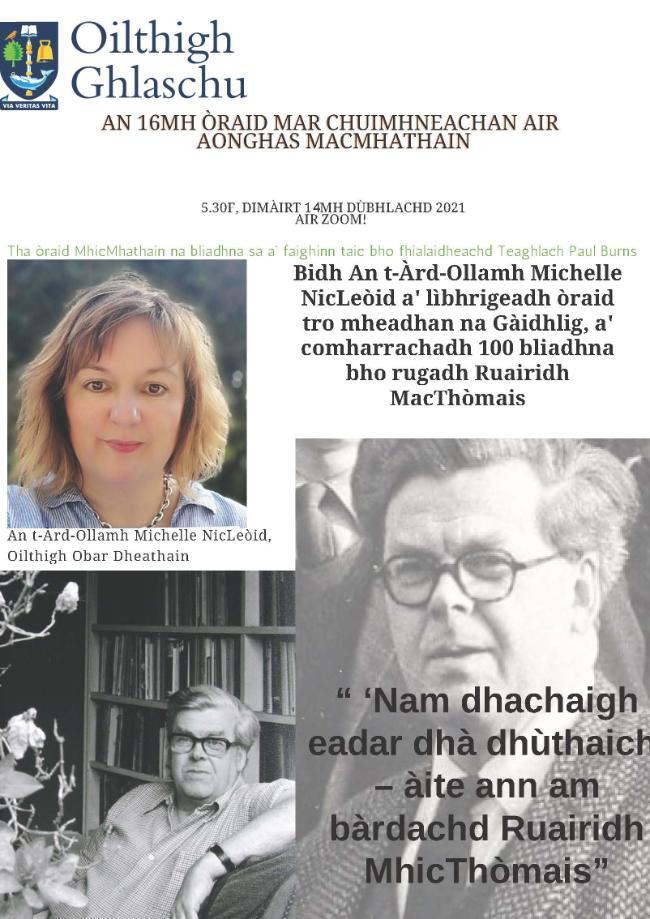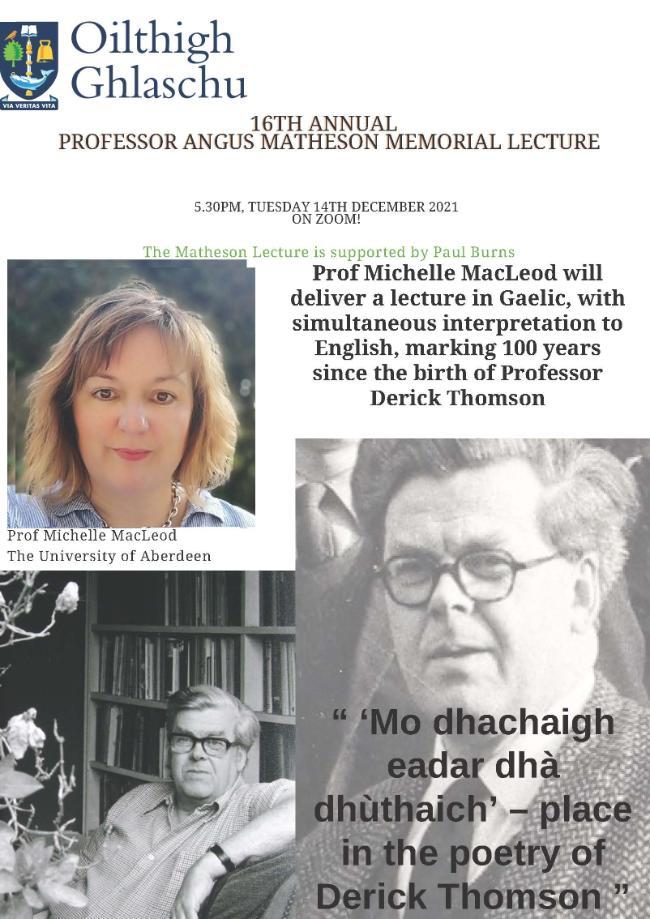 Angus Matheson Memorial Lecture 2020
The Fifteenth Annual Angus Matheson Memorial Lecture: Scottish Place-Names: Past, Present and Future with Dr Simon Taylor
Celtic & Gaelic at the University of Glasgow, with the Centre for Scottish and Celtic Studies, is delighted to present this seminar with Dr Simon Taylor as part of the Angus Matheson Memorial Lecture series.
Tha Roinn na Ceiltis is na Gàidhlig aig Olithigh Ghlaschu, comhla ri Ionad Eòlas na h-Alba is na Ceiltis, air leth toilichte an seiminear seo leis an Dr Simon Taylor a thaisbeanadh mar phàirt de shreath Òraid Bhliadhnail mar Chuimhneachan air Aonghas MacMhathain.
Angus Matheson Memorial Lecture 2019
Fourteenth Annual Angus Matheson Memorial Lecture
5 December 2019

Prof. Angela Bourke, University College Dublin:
An Irish Storyteller and his Editors: Seán Ó Briain, 1852-1934
Seán Éadbhaird Ó Briain, of Loch Conaortha, Co. Galway, was forty, and Ireland was still part of the United Kingdom, when he told long, complex hero-tales for the American collector Jeremiah Curtin. Forty years later, in an independent Irish Free State, two more collectors transcribed those stories and others from Seán Ó Briain. These encounters and the texts that resulted give names, faces and contexts to the dynamics of cultural appropriation and canonisation during the Irish Revival and later.
Angela Bourke's books include Caoineadh na dTrí Muire: Téama na Páise i bhFilíocht Bhéil na Gaeilge; The Burning of Bridget Cleary: A True Story; Maeve Brennan: Homesick at The New Yorker, and (as joint editor), The Field Day Anthology, vols iv & v: Irish Women's Writing and Traditions. She is Professor Emerita of Irish-Language Studies at UCD, Dublin, and a Member of the Royal Irish Academy, and has taught and/or held research fellowships at universities in the UK, USA and Japan. Her BA and MA degrees were in Celtic Studies, before life accidents turned her towards oral traditions.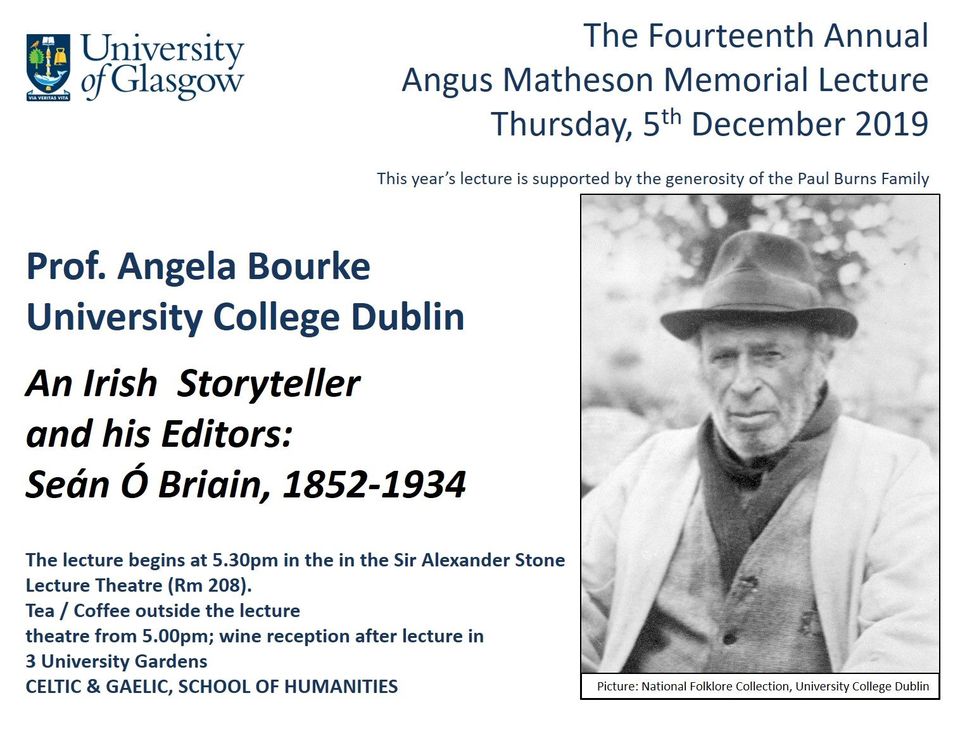 Angus Matheson Memorial Lecture 2018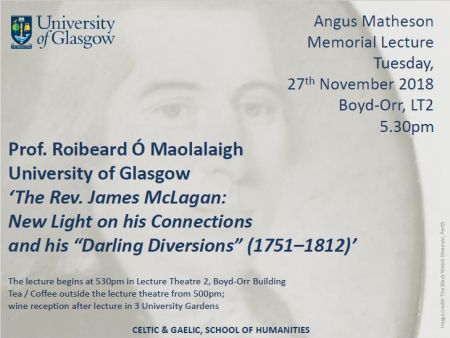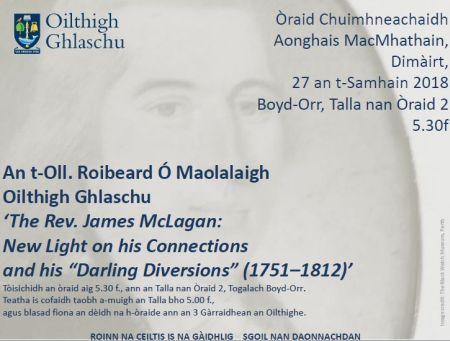 Angus Matheson Memorial Lecture 2017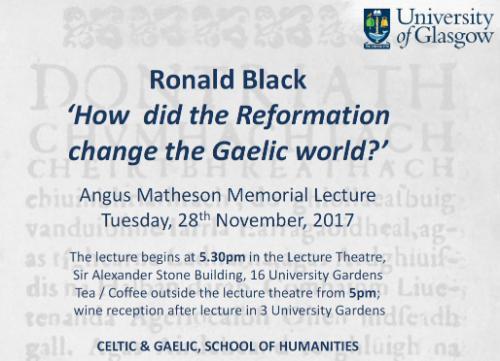 List of the previous Angus Matheson Memorial Lectures
6 December 2022

Professor Clare Downham, University of Liverpool
'Arise, oh handsome valiant host!'Munster, Limerick and the Hebrides, c. 950-1150

14 December 2021

Professor Michelle MacLeod, University of Aberdeen
'Mo dhachaigh eadar dhà dhùthaich' - àite ann am bàrdachd Ruairidh MhicThomàis

8 December 2020

Dr Simon Taylor, University of Glasgow
Scottish Place-Names: Past, Present and Future

5 December 2019

Professor Angela Bourke, University College Dublin
An Irish Storyteller and his Editors: Seán Ó Briain, 1852-1934

27 November 2018

Professor Roibeard Ó Maolalaigh, University of Glasgow
The Rev. James McLagan: New Lights on his Connections and his 'Darling Diversions' (1751-1812)

28 November 2017

Ronald Black
How did the Reformation change the Gaelic world?

1 December 2015

Professor Thomas Owen Clancy
On Our Terms: 'Celtic' and 'Celts'

28 November 2014

Professor Micheal O Mainnin, Queen's University, Belfast
The North-West Channel: Ireland and the Book of the Dean of Lismore

3 December 2012

Professor J F Nagy, UCLA
Some Notable 'Troublemakers' in Medieval Celtic Literature

6 December 2011

Dr Dòmhnall Uilleam Stiùbhart, University of Edinburgh and Sabhal Mòr Ostaig, University of the Highlands and Islands
Misunderstandings, Sly Digs, Failed Performances: The Advantage of Accidents in Alexander Carmichael's Folklore Collections

14 December 2010

Professor William Gillies, University of Edinburgh
From Desmond to Fortingall: The strange case of Earl Gerald

1 December 2009

Dr Mary-Ann Constantine, Centre for Advanced Welsh and Celtic Studies, Aberystwyth
Wales, Scotland and the 'Celtic' voice in Romantic-era Britain

2 December 2008

Dr Lillis Ó Laoire, National University of Ireland, Galway
"Chonaic mé na deora/I saw the tears": Aesthetics in Gaelic Song

27 November 2007

Dr Niall Ó Ciosáin, National University of Ireland, Galway
'Print culture in the Celtic Languages, 1700-1900'

5 December 2006

Professor Donald E. Meek, Professor of Scottish and Gaelic Studies, University of Edinburgh
'From Magnus MacLean to Angus Matheson: Glasgow and the Making of Celtic Studies in Scotland'