Success for IHW in UofG Research Culture Awards 2019
Published: 14 March 2018
IHW and Social and Public Health Sciences' Dr Amy Nimegeer was among four recipients of UofG's Research Culture Awards 2019, with other colleagues highly commended for their efforts in this important area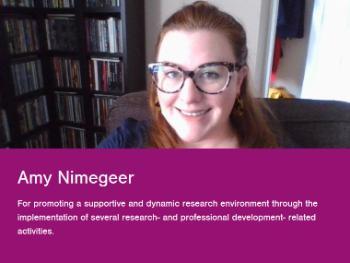 ‌IHW and Social and Public Health Sciences' Amy Nimegeer was among four people awarded one of the prestigious University of Glasgow Research Culture Awards for 2019, which celebrate "outstanding activities that promote collegial behaviours among researchers and contribute to a positive research culture".
The following were also highly commended:
IHW Early Career Researcher Forum and IHW Athena Swan Gender-Sensitive ECR Aspirations' and Development Group, for promoting a positive, supportive and inclusive workplace culture across the Institute of Health and Wellbeing.
Professor Daniel Smith for fostering a supportive and progressive culture in mental health cohort research in the Institute of Health and Wellbeing.
We warmly congratulate all on their success, and thank them for their efforts in this important area.
---
First published: 14 March 2018