"Black students and academics don't need performative allyship, we need change" UofG/IHW alumna Ruth Agbakoba reflects
Published: 21 July 2020
Anti-Black-racism efforts require a change in mindsets and genuine allyship to win hearts and minds. This commitment will enable systemic long-term changes for the benefit of all who engage in academic endeavours
Across the United Kingdom, higher education institutions released official statements in solidarity with the Black Lives Matter movement, decrying anti-black racism and affirming institutional commitments to diversity and inclusion. Undoubtedly there is a substantial amount of work to be done that will take some time, however what can we do to support black students and academics now?
I am an alumna from the University of Glasgow, Institute of Health and Wellbeing; my field of expertise is Digital Health, Implementation Science and Informatics, which historically has a lack of diversity regarding gender and ethnicity. As a Black Female PhD Student I faced system-wide challenges however I was fortunate to have a very supportive supervisory team as my backbone. Given this support and resilience, in 2015 I won the 1st Place World Congress Award in my field of Digital Health and Biomedical Informatics in Sao Paulo, Brazil.
To support students like me who may find themselves in the minority I recently created 'the phd podcast' a UK-wide interactive forum and support network for PhD students, Early Career Researchers (ECRs) and academics. The platform is available on YouTube, Twitter and Instagram and discusses progressive ideas and potential solutions to create a way forward in academia that's more inclusive, equal and diverse. In recent weeks the platform has hosted interviews with special guests and served as a hub and pointer for useful diverse and inclusive resources to help students navigate their PhD successfully.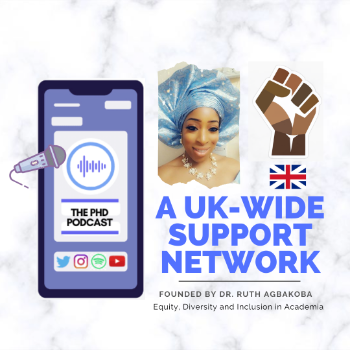 It is common knowledge that obtaining a PhD is a challenge; most recent figures report that 50% of doctoral students drop out of their PhD program, and one third of PhD students are at risk of having or developing a common psychiatric disorder like anxiety or depression throughout their studies. Additional evidence published by the British Educational Research Association shows that doctoral students from Black and underrepresented ethnic groups face even more specific challenges and these issues can increase stress and worsen mental health. The pipeline for black academics in particular is bleak with less than 1% of all professors across the UK identifying as black and very few British universities employing more than one or two black professors. Given these poor statistics, there is a need to address the entire pipeline from school through to professorship in order to increase the diversity of students that pursue academic careers. This change also requires genuine allies to counter privileges that they enjoy but which systemically oppress others.
The PhD Podcast serves as a resource for you, feel free to engage with us to build a community and a future academia where you are included! YouTube Twitter Instagram
Ruth Agbakoba
Honorary Research Associate, UCL Institute of Health Informatics
Digital Health Engagement Lead, Clinical Research Informatics Unit (CRIU), University College London Hospitals (UCLH)
---
First published: 21 July 2020