IHW launches British Sign Language cafés!
As part of our Athena SWAN and inclusiveness activities, IHW now runs a monthly café-style event for staff and students interested in finding out more about British Sign Language, brushing up on their existing skills, or helping others to learn to sign.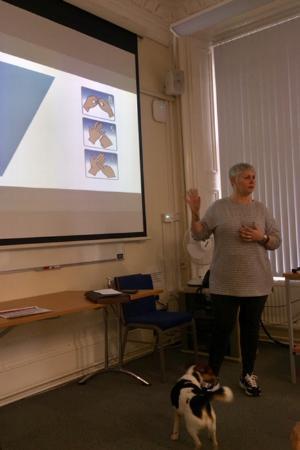 Led by Public Health's Lorraine Waddell (right), the aims are:
to provide an informal environment in which to find out more about BSL (whether we are complete beginners or more experienced users);
to give us the skills to communicate at a basic level with people with hearing loss;
to raise awareness of deaf culture.
Our first café took place at the end of January 2020, and was attended by a small but enthusiastic group of colleagues from across the institute (plus IHW office dog Rudy, already a keen student of non-verbal communication!). Basic finger-spelling was covered plus signs relating to Christmas and leisure time, and by the end of the hour we were all able to spell our own names, plus those of siblings, children or companion animals!
Please email Lorraine.Waddell@glasgow.ac.uk if you would like to join our mailing list for these events. (Forthcoming dates are: 26 Feb, 25 Mar, 30 Apr, 20 May, 24 Jun, 30 Jul 2020.)
We are grateful to the MVLS Diversity and Inclusion Network Event Fund for providing financial support for these events.
---
First published: 18 February 2020