"5 minutes with..." Houra Haghpanahan (HEHTA)
Health Economics and Health Technology Assessment's Houra Haghpanahan describes the career pathway that led to her current role, the dream of travelling the world by campervan, and what the Scottish landscape and the words of ancient Persian poets mean to her...
Tell us a bit about what you do in IHW
I am a research associate at HEHTA. I joined IHW in 2017 as a full-time researcher. As an early career researcher coming from University of Stirling to join such a big diverse environment at University of Glasgow, I was so excited and enthusiastic to start. My first project was evaluating lowering the drink driving limit in Scotland (led by Prof Jim Lewsey), and was a great opportunity to work on an interesting topic with a professional team and learn a lot. Developing a Scottish type 2 diabetes policy model was the next project I have worked on as a lead researcher over the last 3 years. I have developed a cohort model to predict life expectancy for diabetic patients in Scotland. Currently, I am involved in a substantial project in collaboration with colleagues from University of Stirling to evaluate later/extended premises hours for alcohol in the night-time economy. Alongside doing research I have other duties such as supervising Master of Public Health/MSc Health Technology Assessment students, developing health economics online courses, and teaching.
What do you enjoy about your role?
As someone who graduated in economics and was studying and doing research in macroeconomics – e.g. GDP, unemployment, currency crises, exchange rate market and interest rate – I was partially aware of health economics and general healthcare research. However, I am personally interested in public and population health issues. Starting my first job as an econometrician to investigate the effectiveness of smoking cessation interventions was my very first experience of working with health economists. Since I was introduced to health economics, I started to study and learn more about health economics. It was a turning point in my career path, and I felt I want to focus and develop my professional life in healthcare research.
Being part of HEHTA team I always have the support of my colleagues – it feels like they are part of my family.
My main research interests are focused on striving to adapt and develop econometric and statistical methodologies traditionally applied in the wider economics field to healthcare research, especially applying time series analyses and modelling technique to evaluate routinely collected clinical datasets, public health intervention, and natural experiment. It is quite enjoyable that working in IHW provided me an opportunity to enhance my skills and fulfil my career ambitions.
What are the challenges?
The main challenge I can think of is to keep the work/life balance, especially during the pandemic as we needed to work from home. Since lockdown, over a year ago now, what I miss most is meeting my colleagues in the workplace and having a short chat on the stairs or in corridors. This had a significant effect on my productivity, which I never thought of before lockdown.
What is the best thing about working in IHW?
The best thing about working in IHW is the inter-disciplinary environment. You can see a range of different research conducted which provides opportunities to meet and collaborate with experts from other disciplines and learn more. Additionally, I have met nice and caring people in IHW that have made a friendly work environment. I remember, from the early days of working in HEHTA, I met Nicola McMeekin who is a very friendly and caring colleague of mine. I would like to say being part of the HEHTA team I always have the support of my colleagues – it feels like they are part of my family.
Tell us something we might not know about you, or would surprise us
Well…it may not be surprising for the people who know me but I would like to have a campervan and travel all over the world.
When or where are you happiest?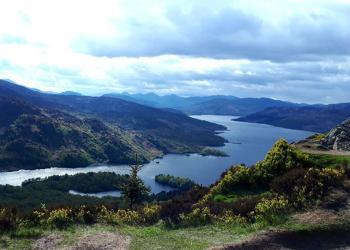 My happiest moments are when I spend time with my family and friends. We usually get together, have lots of delicious food, great chat and enjoy time together. Living abroad away from the family provides less opportunity for this, however, I have many friends that I travel and enjoy time with. Another favourite activity is going to nature. Living in Scotland has given me this chance in a perfect way as green space/forest is accessible even within walking distance. I mostly enjoy living in a place that has such magnificent nature – a combination of mountains, forest, loch, landscape and scenery.
Over the last couple of years I have travelled around Scotland and gone hillwalking with colleagues/friends and explored more of this wonderful beauty.
Do you have a favourite quote or saying, or mantra by which you try to live your life?
I am fond of Persian literature and poetry. I usually read a poem or listen to traditional music that sings the poem every day. I feel that my soul is touched by those words. There are many ancient poets in Persian culture such as Saadi, Hafiz, Rumi and Omar Khayyam. I believe their poets contain wisdom of life that could shed light on the life path. Hafiz says:
"Every and each happy moment occurs in your life just grab it off happily. Nobody knows what will be waiting for you at the end of the day."
The verse is my mantra especially over last year in which pandemic has spread over the world. It reminds me to acknowledge my happy moment and make the most of the moment and be happy.
If you would like to appear in "Five minutes with...", do please get in touch (jane.goodfellow@glasgow.ac.uk)! We aim to alternate professional services and research/teaching staff profiles, and feature colleagues from across a wide range of roles and grades within our institute.
---
First published: 21 September 2020