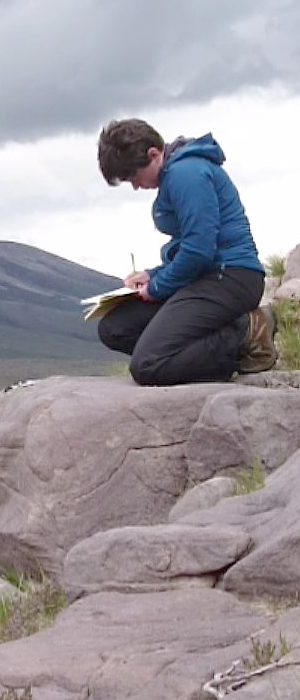 Catherine Barrett
The main attraction for coming to Glasgow to study Earth Science for me was the opportunity to go on field trips and how they are a huge part of the course. They really help to consolidate what you have been learning in lectures/labs and give you additional skills for better employability. With a range of residential and day trips, they are a great opportunity to get out into the beautiful Scottish landscape and see great examples of land processes and evidence for previous activity of glaciers/tectonics etc. of which Scotland has plenty! The social side of the trips are great fun too, especially with a smaller class, as you get to know your classmates very well, as well as the lecturers, making it very easy to ask lots of questions and enhance your understanding of the subject.
Glasgow is also a very exciting city to live in as a student. There is always something going on, whether you're interested in sport, music, art, history, environment - the list goes on! So it's very easy to find extra-curricular activities and events to get yourself involved in outside of your studies.
The support of all the lecturers in the department has been second to none as they are very passionate about their subjects and are always on hand to help. They operate an 'open-door' policy which means you can go and see them whenever and they are very approachable. They tailor many assessments to field trips and industry-style reports, making them much more applicable to the working world beyond university and the field trips are very well planned and capture all of the important aspects of the content you have been learning.
If you're thinking about applying to Glasgow, my advice would be to make the most of the open day as it's a great way to see exactly what the course is all about and gives you a chance to chat to all the staff. If you're interested in a variety of topics concerning the environment, landscape and climate and enjoy the outdoors then this course is for you, just go for it!