English Language and Linguistics Research Seminar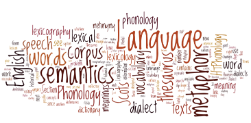 ‌
English Language and Linguistics Research Seminar
‌Research in English Language and Linguistics spans historical and contemporary English linguistics (notably sociolinguistics and phonetics, discourse analysis, lexicology and semantics, and corpus linguistics), Scots and English in Scotland, and medieval English studies. The English Language and Linguistics Research Seminar provides an opportunity to hear and discuss recent research in a friendly and stimulating environment. The Research Seminar hosts invited talks from speakers at institutions outwith Glasgow and staff members within English Language. It also gives our Postgraduate students the chance to present at a formal research seminar. Recent guest speakers include Mishtooni Bose (Oxford), Amalia Arvaniti (Kent), Martin Foys (Drew University Madison), Paul Kerswill (York), Mark Amsler (Auckland), and Laurel MacKenzie (Manchester). Some talks, especially on medieval English studies, are co-sponsored with Medieval and Renaissance Studies at Glasgow.

English Language also hosts the newly-established, prestigious Samuels and Kay Lectures.

The Research Seminar meets regularly on Thursdays at 4.15pm during the semester. For details please contact Prof Carole Hough.
The seminar programme for 15-16 Semester 2 is here: English Language Seminars 15-16 Semester 2