Robert Burns: Radical Exciseman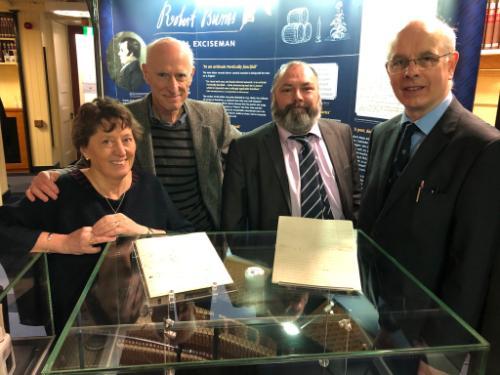 (image from @NatRecordsScot)
Two recently identified letters written by contemporaries of Burns are being exhibited in an exhibition at the National Records of Scotland in Edinburgh. Robert Burns: Radical Exciseman helps reframe the popular notion that Burns was not keen on working for the excise, using it only as a means to an end while writing new poems and songs.
The letters, written in 1789 and 1796 by John Mitchell, Burns's boss, will be on show along with other items in the General Register House from 25 January to 23 February.
At a press conference on 24 January, Professor Gerard Carruthers said:
"The newly discovered letters confirm Burns's enthusiasm for the Excise service, where he found many likeminded individuals and an amenable space in which he could develop an increasing enthusiasm for political reform. This is the paradox of his life in this period: government service and a potentially sceptical attitude towards government".
For more on the background of Burns's radicalism, Prof. Carruthers will deliver a talk on 6 February 2018, during the course of the exhibition. To book tickets for 'Robert Burns, the Excise Services and Politics in a time of Revolution' click here.
---
First published: 25 January 2018