Further information on the project can be found at these resources:
The Orcadian
Orkney Islands Council
All About Orkney
The Times (Catherine Turnbull, 'Scribbles, scraps and and a cannibal tale are window on poet's mind', 2 December 2011)
George Mackay Brown: A Literary Executor's Archive
Award Holder: Dr Kirsteen McCue (Scottish Literature, University of Glasgow)
Research Assistant: Dr Linden Bicket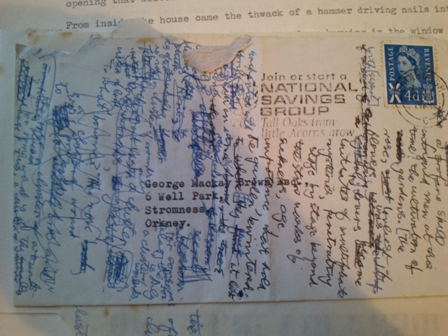 'George Mackay Brown: A Literary Executor's Archive' is a project funded by a British Academy Small Grant of £7,500 and is based in Scottish Literature at the University of Glasgow.
The major element of this project was six weeks of indexing and then cataloguing manuscripts and typescripts of novels, short stories and plays, and broadcast scripts and clippings from newspapers, magazines and journals, by the Orcadian writer George Mackay Brown (1921-1996). Brown left this material to his literary executor after his death. As of 1 October 2011, Dr Linden Bicket spent six weeks in Orkney, and carried out the indexing, cataloguing and re-housing of this material in specialist preservation equipment before handing it over to Orkney Library and Archive, where it now forms a new George Mackay Brown collection and is publicly accessible.
This new catalogue of Brown materials provides an exciting new insight into his creative process, and forms the first single archival collection of his work in his native Orkney Islands. Along with two future publications on the project and a George Mackay Brown Memorial lecture given by Dr Linden Bicket in April 2011, this new collection will greatly enhance wider public understanding of Brown, one of Scotland's foremost twentieth-century writers and poets.
A digital catalogue of this material is now available on Orkney Library's website, and provides a description, title and date for the items in the new collection. It can be found here: George Mackay Brown Collection
Further information on the project can be found at these resources:
The Orcadian
Orkney Islands Council
All About Orkney
The Times (Catherine Turnbull, 'Scribbles, scraps and and a cannibal tale are window on poet's mind', 2 December 2011)