Screening of Permanent Green Light - 2nd May, 6.30pm in Andrew Stewart Cinema, Gilmorehill.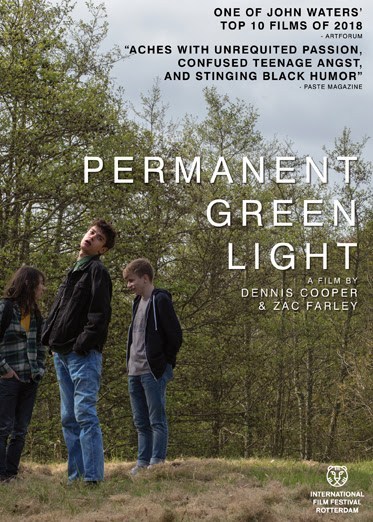 A very special opportunity to see Permanent Green Light, a film by Dennis Cooper and Zac Farley + a Q and A after the screening.
A young guy wants to explode. He wants to do it in public. He's only interested in the act's effect. That he'll die is unimportant. He's not suicidal. He has no ideology. He's not interested in "heaven" or in going there. He doesn't want people to misinterpret the explosion as his death.
---
What The Critics Said...
One of the 10 best films of 2018. — John Waters
"Zac Farley and Dennis Cooper have succeeded in making an incredibly concentrated film, in which every word of the tender dialogues — even in the most brutal of rejections — is exactly placed, and in which every scene is borne by its devotion to its figures. No parable of the meaninglessness of life, but a meditation on the will to total existence." — DIAPHANES
"Cooper & Farley's film is lyrical yet rigorously Bressonian, and aches with unrequited passion, confused teenage angst, and stinging black humor. A brilliant, disturbing, but darkly rewarding experience." — Dennis Dermody, Paper Magazine
"A stunning film." — Interview Magazine
"Together with his collaborator Director/Writer Zac Farley, Dennis Cooper has created a great, astonishing film as disquieting and eloquent as the George Miles Cycle." — Artforum
"Cooper and Farley's film is an echo-filled love song for a headphone-wearing, screen-dependent generation." — The White Review
"In Permanent Green Light, the poetic performance of language disfigures the palpable identity and nature of characters and their relationships in favor of the subterranean fear and the excitement of vanishing.' — Desistfilm
"PERMANENT GREEN LIGHT is as subversive as Cooper's most dangerous works of fiction, though it lacks any of the overtly shocking Cooper staples. Where the film does fit into Cooper's larger body of work is in its deep respect for the complexities and desires that are part and parcel of the teenage experience." — Michael-Oliver Harding, Another Man
"Set against a sea-less Cherbourg, Dennis Cooper and Zac Farley's PERMANENT GREEN LIGHT follows an emotionally tangled French teen and his obsession with blowing himself up. Material fixations take over where expression falters, and, evoking the slow-pans of Alain Resnais's LAST YEAR AT MARIENBAD (1961) in its matte, blank progression. Any interpretation in the film is a sad, melancholic jig against an unseen seashore, written purely as scaffolding for the singular event of the explosion; it dramatises the gesture of self-detonation as a paradoxically creative act." — Sabrina Tarasoff, MOUSSE
First published: 10 April 2019