An Evening with Sawsan Al-Areeqe - Thu, 28 March 2019, 6pm, Andrew Stewart Cinema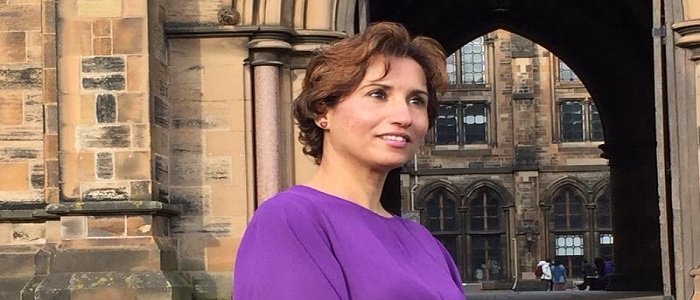 You are warmly invited to an evening of poetry, film and discussion in the company of Sawsan Al-Areeqe.
An award-winning poet and filmmaker, Al-Areeqe is the recipient of the prestigious Artist Protection Fund Fellowship, hosted by the University of Glasgow in 2018/19.
In celebration of her creative work as our visiting Fellow, Al-Areeqe will share poetry from across her four collections, including new writing from her forthcoming title, Expired Death, written during her time here in Glasgow. The evening will also be a rare opportunity to view some of her award-winning short films: Prohibited (2010), Daughter of the Sea (2011) and Photo (2012).
The event will include an audience Q&A. Refreshments provided. All welcome.
An Evening with with Sawsan Al-Areeqe is supported by:


---
Artist Biography
Sawsan Al-Areeqe is the author of four poetry collections: The Square of Pain (2004), More Than Necessary (2007) - which received the Lebanon Literature Award - and What if My Blood Turned Into Chocolate which won the Creative Award (2011). Her fourth collection, Expired Death, written during her Fellowship at the University of Glasgow, will be published in Spring 2019. She has performed her poetry in Oman, Jordan, Algeria, United Arab Emirates, Egypt and Glasgow. Most recently, Sawsan performed her poetry at Glasgow's Poetry Club, appearing alongside Stephanie Young and the late Tom Leonard.
Recipent of the 2018/19 Artist Protection Fund Fellowship, Sawsan has also held a writer's residence position in the USA, following an invitation from Iowa University's International Writing Program (2013).
She has won several awards for her work as a filmmaker. Her short film Prohibited won the British Council's 2010 Zoom Film Contest, the Special Jury Prize at the 2012 Meknes International Film Festival, The Best Idea at the 2014 Teba Short Films Festival in Egypt and The Main Theme in Italy in 2018. She was also awarded a Merit for her short film, Photo, in Canada (2018). Photo has been shown at several festivals around the world, including the World of Film International Film Festival in Glasgow and the 2018 "Discover Film" in London. Daughter of the Sea was presented at the 2011 Liverpool Arabic Film Festival and as part of the Yemen strand in 2015 Deutsche Welle Global Media Form in Bonne, Germany. She was selected to participate as a member in the committee of arbitration in the Arab Short Films Festival in Morocco 2013.
Sawsan has a Bachelor's degree in Mass Communication Faculty, Radio and Television from Sana'a University. She worked as a reporter for 'Netherlands Radio RN' through Video Social Reports and was a member of the editorial board for Cultural Poetry Magazine published in The Maghreb.
First published: 26 March 2019