Creative Conversations: Writer Angus Peter Campbell / Aonghas Phàdraig Caimbeul - Monday, 04/03/19, 13:00 - 14:00

Date: Monday 4th March 2018
Time: 13:00 - 14:00
Venue: University of Glasgow Memorial Chapel
Category: Public lectures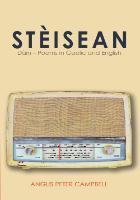 Angus Peter Campbell (Aonghas Phàdraig Caimbeul) was born on the Island of South Uist. He graduated in Politics and History from the University of Edinburgh, and has worked as a lecturer, lobster-fisherman, forester and builder's apprentice, and as a newspaper, radio and television journalist.
Sorley MacLean said of him 'I have no doubts that Angus Peter Campbell is one of the few really significant living poets in Scotland, writing in any language.' He has four collections of poetry: Aibisidh was published by Polygon in 2011 and won the Scottish Poetry Book of the Year Award in 2012, and his novels in Gaelic win critical acclaim.
He was awarded the Bardic Crown for Gaelic Poetry in 2001, and a Creative Scotland Award in 2002. In 2007 Campbell starred in the Gaelic feature film Seachd: The Inaccessible Pinnacle. His English-language novel, Memory and Straw, was published by Luath Press in 2017, and a bi-lingual poetry collection, Stèisean, in 2018.

As part of the on-going Creative Conversation speaker series poet and novelist Angus Peter Campbell comes to campus to chat about his writing. Bring your lunch and burning questions!
Sponsored by the Ferguson Bequest and programmed by Creative Writing at University of Glasgow
---
First published: 10 January 2019