Professor Peter Skabara
Ramsay Chair of Chemistry (School of Chemistry)
telephone: 0141 330 1762
email: Peter.Skabara@glasgow.ac.uk
https://orcid.org/0000-0001-7319-0464
Biography
Pete Skabara graduated from Queen Mary and Westfield College, University of London, in 1991 with a First Class Honours degree in Chemistry. He completed his PhD studies in 1994 under the supervision of Professor Martin Bryce at the University of Durham before taking up a Max-Planck Fellowship with Professor Klaus Müllen at the MPI for Polymer Research in Mainz (1994-95). His academic career began at Sheffield Hallam University in 1995, and he moved to the University of Manchester (Senior Lectureship 2000-05), before joining the University of Strathclyde where he was the James Young Chair of Chemistry and Head of Department (2010-13). In 2018 he moved from Strathclyde to his present position as the Ramsay Chair of Chemistry at the University of Glasgow.
Research interests are generally in the field of organic semiconductors, which spans electronic and photonic devices and sensors, with an emphasis on synthesis and bulk properties, which are in turn driven by careful design and control of molecular architecture. His work on monodisperse, star-shaped conjugated macromolecules gained him a Royal Society Wolfson Research Merit Award. He has also held a Leverhulme Trust Fellowship and is currently a Leverhulme/Royal Society Africa Award holder.
Pete joined the Editorial Board of the Journal of Materials Chemistry in 2011 and has been the Chair of the Journal of Materials Chemistry C since its launch in 2013. He is the next Chair of the ICSM biennial meeting, the premier roving meeting for organic and hybrid semiconductor device research, which is being held in the UK for the first time in Glasgow in 2020.
Research interests
Plastics have been around for many decades. They have become ubiquitous in many different forms and they cover an enormous range of functions. We think we know them very well – but do the gadget-minded enthusiasts amongst us truly know what's out there and what's around the corner for plastic technologies? A hugely exciting development for conjugated polymers has revolutionised the electronics industry through the discovery and application of plastics that can conduct electricity (aka organic semiconductors). Most people have no doubt heard of OLED technology (in TVs and smartphones), but this technology is now set to break into the lighting market. In the future, we can envisage sheets of plastic lighting up our streets and buildings, replacing energy-wasteful light bulbs. Plastic could even help revolutionise WiFi by providing an alternative technology, LiFi, that uses visible light instead of radio frequencies to give a much faster way of transferring data wirelessly and with a high level of security. Think about the clothes you wear – could it be possible that the next shirt you buy will be able to charge the battery in your smartphone? Are these prospects stretching the boundaries of plastic too far, or are they real possibilities? The Skabara group in Glasgow design and make such organic semiconductors for a range of applications. These materials are polymers, macromolecules and 'small molecules' and devices using these materials are fabricated in-house or through collaboration with partners in academia and industry.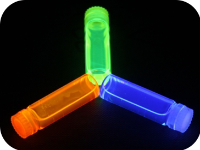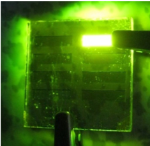 Current Funded Research Topics
Hetero-print: A holistic approach to transfer-printing for heterogeneous integration in manufacturing
Light-controlled manufacturing of semiconductor structures: a platform for next generation processing of photonic devices
Molecular assembly of spintronic circuits with DNA
Single-molecule studies of light-emitting polymers: observing and manipulating polymer conformation in solution
EXCILIGHT: Donor-Acceptor Light Emitting EXCIplexes as Materials for Easy-to-Tailor Ultra-efficient OLED LIGHTing
OCTA - Organic Charge Transfer Applications
Selected Publications
1. Nanostructured Materials for Type III Photovoltaics, Eds. P. J. Skabara and M. A. Malik, RSC Publishing, Cambridge, ISBN 978-1-78262-458-5, 2017.
2. Polymer colour converter with very high modulation bandwidth for visible light communications, D. A. Vithanage, A. L. Kanibolotsky, S. Rajbhandari, P. Manousiadis, M. T. Sajjad, H.Chun, G. E. Faulkner, D. C. O'Brien, P. J. Skabara, I. D. W. Samuel and G. A. Turnbull, J. Mater. Chem. C, 2017, 5, 8916-8920. DOI: 10.1039/c7tc03787b
3. An ambipolar BODIPY derivative for a white exciplex OLED and cholesteric liquid crystal laser towards multi-functional devices, M. Chapran, E. Angioni, N. J. Findlay, B. Breig, V. Cherpak, P. Stakhira, T. Tuttle, D. Volyniuk, J. V. Grazulevicius, Y. A. Nastishin, O. D. Lavrentovich and P. J. Skabara, ACS Appl. Mater. Interfaces, 2017, 9, 4750-4757. DOI: 10.1021/acsami.6b13689
4. Miniature nitro and peroxide vapor sensors using nanoporous thin films, R. Blue, N. Thomson, S. J. Taylor, A. J. Fletcher, P. J. Skabara and D. Uttamchandani, IEEE Sensors J., 2016, 16, 8767-8774. DOI:10.1109/JSEN.2016.2559442
5. BODIPY star-shaped molecules as solid state colour converters for visible light communications, D. Vithanage, P. Manousiadis, M. T. Sajjad, S. Rajbhandari, H. Chun,C. Orofino, D. Cortizo-Lacalle, A. L. Kanibolotsky, G. Faulkner, N. J. Findlay, D. O'Brien, P. J. Skabara, I. D. W. Samuel and G. A. Turnbull, Appl. Phys. Lett., 2016, 109, 013302. DOI: 10.1063/1.4953789
6. To bend or not to bend – are heteroatom interactions within conjugated molecules effective in dictating conformation and planarity?, G. Conboy, H. J. Spencer, E. Angioni, A. L. Kanibolotsky, N. J. Findlay, S. J. Coles, C. Wilson, M. B. Pitak, C. Risko, V. Coropceanu, J.-L. Brédas and P. J. Skabara, Mater. Horiz., 2016, 3, 333-339. DOI: 10.1039/c6mh00051g
7. Nanoparticles of Cu2ZnSnS4 as Performance Enhancing Additives for Organic Field-Effect Transistors, P. Kevin, M. A. Malik, P. O'Brien, J. Cameron, R. G. D. Taylor, N. J. Findlay, A. R. Inigo and P. J. Skabara, J. Mater. Chem. C, 2016, 4, 5109-5115. DOI: 10.1039/C6TC01650B
8. A single emitting layer white OLED based on exciplex interface emission, E. Angioni, M. Chapran, K. Ivaniuk, N. Kostiv, V. Cherpak, P. Stakhira, A. Lazauskas, S. Tamulevičius, D. Volyniuk, N. J. Findlay, T. Tuttle, J. V. Grazulevicius and P. J. Skabara, J. Mater. Chem. C, 2016, 4, 3851-3856. DOI:10.1039/c6tc00750c
9. RGB and white-emitting organic lasers on flexible glass, C. Foucher, B. Guilhabert, A. L. Kanibolotsky, P. J. Skabara, N. Laurand and M. D. Dawson, Opt. Express, 2016, 24, 2273-2280. DOI:10.1364/OE.24.002273
10. High Brightness Solution-Processed OLEDs Employing Linear, Small Molecule Emitters, N. J. Findlay, B. Breig, C. Forbes, A. R. Inigo, A. L. Kanibolotsky and P. J. Skabara, J. Mater. Chem. C, 2016, 4, 3774-3780. DOI: 10.1039/C5TC03579A
11. Ultralow-Threshold Up-Converted Lasing in Oligofluorenes with Tailored Strong Nonlinear Absorption, B. Guzelturk, A. L. Kanibolotsky, C. Orofino-Pena, N. Laurand, M. D. Dawson, P. J Skabara and H. V. Demir, J. Mater. Chem. C, 2015, 3, 12018-12025. DOI: 10.1039/C5TC02247A
12. Conducting nanofibers and organogels derived from the self-assembly of tetrathiafulvalene-appended dipeptides, S. K. M. Nalluri, N. Shivarova, A. L. Kanibolotsky, M. Zelzer, S. Gupta, P. W. J. M. Frederix, P. J. Skabara, H. Gleskova and R. V. Ulijn, Langmuir, 2014, 30, 12429-12437. DOI: 10.1021/la503459y
13. An organic down-converting material for white-light emission from hybrid LEDs, N. J. Findlay, J. Bruckbauer, A. R. Inigo, B. Breig, S. Arumugam, D. J. Wallis, R. W. Martin and P. J. Skabara, Adv. Mater., 2014, 26, 7290-7294. DOI: 10.1002/adma.2014026
For a full list of publications, please see: http://orcid.org/0000-0001-7319-0464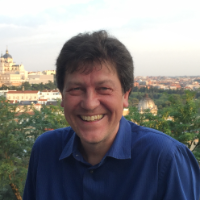 Chemistry, Room C4-13, Joseph Black Building,