Dr Joelle Prunet
Senior Lecturer

(School of Chemistry)
telephone: 01413308774
email: Joelle.Prunet@glasgow.ac.uk

School of Chemistry, Joseph Black Building - A4-13, University Avenue, Glasgow G12 8QQ
https://orcid.org/0000-0002-9075-971X
Research interests
Research Interests
The main research interest of The Prunet Group is the synthesis of biologically active natural products, such as taxol, a powerful antitumor agent, or dolabelide C and hexacyclinic acid, molecules with cytotoxic activity. In our approaches towards the target molecules, we uncover problems that cannot be easily solved by known reactions, and to overcome these difficulties we try to develop new methodologies that can also be applied to other syntheses.
‌‌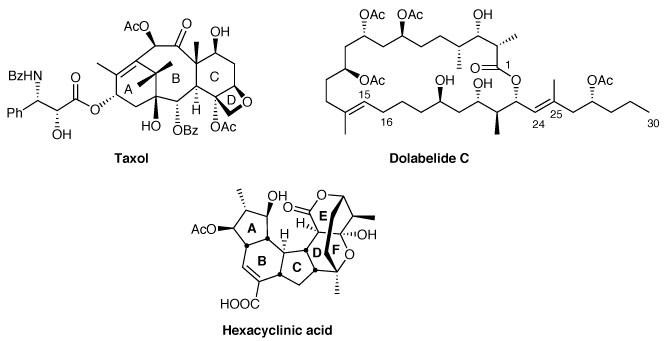 Publication Highlights
Gamba-Canchez, D.; Prunet, J. J. Org. Chem. 2010, 75, 3129-3132 Synthesis of Modified Methyl Furanosides by Intramolecular Oxa-Michael Reaction followed by Pummerer Rearrangement.
Ma, C.; Schiltz, S.; Le Goff, Xavier F.; Prunet, J. Chem. Eur. J. 2008, 7314-7323 Ring-Closing Metathesis in the Synthesis of BC Ring-Systems of Taxol.
Toueg, J.; Prunet J. Org. Lett. 2008, 10, 45-48 Dramatic Solvent Effect on the Diastereoselectivity of Michael Addition: Study towards the Synthesis of the ABC Ring-System of Hexacyclinic Acid.
Rotulo-Sims, D.; Prunet J. Org. Lett. 2007, 9, 4147-4150 Tandem Conjugate Addition-Elimination for the Diastereoselective Synthesis of 4E-Alkenyl Syn 1,3-Diols.
Vincent, A.; Prunet, J. Synlett 2006, 2269-2271 Enantioselective Synthesis of the C1-C15 Fragment of Dolabelide C.
Research groups
Publications
Selected publications
Letort, A., Aouzal, R., Ma, C., Long, D.-L. and Prunet, J. (2014) Highly efficient synthesis of the tricyclic core of Taxol by cascade metathesis. Organic Letters, 16(12), pp. 3300-3303. (doi: 10.1021/ol501304j)
Sinclair, F., Alkattan, M., Prunet, J. and Shaver, M. P. (2017) Olefin cross metathesis and ring closing metathesis in polymer chemistry. Polymer Chemistry, 8(22), pp. 3385-3398. (doi: 10.1039/C7PY00340D)
Letort, A., Long, D.-L. and Prunet, J. (2016) Study of cascade ring-closing metathesis reactions en route to an advanced intermediate of Taxol. Journal of Organic Chemistry, 81(24), pp. 12318-12331. (doi: 10.1021/acs.joc.6b02264) (PMID:27978745)
Fournier, L., Robert, C., Pourchet, S., Gonzalez, A., Williams, L., Prunet, J. and Thomas, C. M. (2016) Facile and efficient chemical functionalization of aliphatic polyesters by cross metathesis. Polymer Chemistry, 7(22), pp. 3700-3704. (doi: 10.1039/C6PY00664G)
Braun, M.G., Vincent, A., Boumediene, M. and Prunet, J. (2011) Highly demanding cross metathesis in the synthesis of the C16-C30 fragment of dolabelide C. Journal of Organic Chemistry, 76(12), pp. 4921-4929. (doi: 10.1021/jo200466t)
Prunet, J. (2011) Progress in metathesis through natural product synthesis. European Journal of Organic Chemistry, 2011(20-21), pp. 3634-3647. (doi: 10.1002/ejoc.201100442)
Adler, P., Fadel, A., Prunet, J. and Rabasso, N. (2017) From acyclic to cyclic α-amino vinylphosphonates by using ring-closing metathesis. Organic and Biomolecular Chemistry, 15(2), pp. 387-395. (doi: 10.1039/c6ob02548j) (PMID:27918059)
Ma, C., Letort, A., Aouzal, R., Wilkes, A., Maiti, G., Farrugia, L. J., Ricard, L. and Prunet, J. (2016) Cascade metathesis reactions for the synthesis of taxane and isotaxane derivatives. Chemistry: A European Journal, 22(20), pp. 6891-6899. (doi: 10.1002/chem.201600592) (PMID:27062670) (PMCID:PMC4982030)
Redon, S., Wierzbicki,, M. and Prunet, J. (2013) A new oxa-michael reaction and a gold-catalysed cyclisation en route to C-glycosides. Tetrahedron Letters, 54(16), pp. 2089-2092. (doi: 10.1016/j.tetlet.2013.02.022)
Becerra-Figueroa, L., Brun, E., Mathieson, M., Farrugia, L. J., Wilson, C. , Prunet, J. and Gamba-Sánchez, D. (2017) Diastereoselective synthesis of trifluoromethylated 1,3-dioxanes by intramolecular oxa-Michael reaction. Organic and Biomolecular Chemistry, 15(2), pp. 301-305. (doi: 10.1039/C6OB02333A) (PMID:27897299)
Chevalley, A., Prunet, J. , Mauduit, M. and Ferezou, J.-P. (2013) Model studies for a ring-closing metathesis approach to the Bafilomycin macrolactone core from a 2,2-dimethoxy tetraenic ester precursor. European Journal of Organic Chemistry, 2013(36), pp. 8265-8278. (doi: 10.1002/ejoc.201300559)
All publications