Dr Hans Senn
Lecturer in Theoretical & Computational Chemistry (Chemistry)
Research interests
Research Interests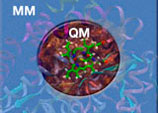 The computational chemistry and simulations group led by Hans Senn uses combined "molecular mechanics" (MM) and quantum-mechanical (QM) computer simulations to get insight into chemical reactions, in particular catalytic reactions. Combined QM/MM methods describe only the part of the molecule where the reaction is taking place with an expensive QM method and use MM for the remainder. They are especially suited for enzyme reactions, where the reaction is confined to the "active site". Enzymes are involved in virtually all chemical transformations in living organisms and computer simulations provide a detailed picture at the atomic and molecular level of how the catalyst works. One obtains information about the reaction rates and the overall energetics of the processes as well as about the properties of the molecules involved in the reaction, including the catalysts themselves, which helps their identification in experiments.
Research Topics
Computational studies of enzymatic reactions using combined quantum mechanics/molecular mechanics (QM/MM)
Computational transition-metal and organometallic chemistry, including homogeneous catalysis
First-principles and QM/MM molecular dynamics
Sampling techniques and free-energy calculations
Modelling of solvation effects
Publication Highlights
L. J. Farrugia, H. M. Senn, Metal-Metal and Metal-Ligand Bonding at a QTAIM Catastrophe: A Combined Experimental and Theoretical Charge Density Study on Fe3(μ-H)(μ-COMe)(CO)10, J. Phys. Chem. A 2010, 114, 13418–13433.

H. M. Senn, J. Kästner, J. Breidung, W. Thiel, Finite-temperature effects in enzymatic reactions: Insights from QM/MM free-energy simulations, Can. J. Chem. 2009, 87, 1322–1337 (Tom Ziegler Festschrift).

H. M. Senn, W. Thiel, QM/MM Methods for Biomolecular Systems, Angew. Chem. Int. Ed. 2009, 48, 1198–1229.

H. M. Senn, W. Thiel, QM/MM Methods for Biological Systems, in Atomistic Approaches in Modern Biology, M. Reiher (Ed.), Topics in Current Chemistry, vol. 268, Springer, Berlin, 2007, pp. 173-290.

H. M. Senn, D. O'Hagan, W. Thiel, Insight into Enzymtic C–F Bond Formation from QM and QM/MM Calculations, J. Am. Chem. Soc. 2005, 127, 13643-13655.
Teaching
Teaching
PGT Coordinator, Class Head MSc Chemistry and MSc CMC

Chem-3: Symmetry and bonding

Chem-4: Theoretical and computational chemistry
Additional information
Awards
Dr sc nat (ETH Zurich), MRSC
Selected Recent Talks
Gordon Research Conference on Computational Chemistry, Les Diablerets (Switzerland), 2010.

"Multiscale Molecular Modelling", Edinburgh (UK), 2010.

ACS National Meeting, Philadelphia, PA (USA), 2008.

CMM "Users meet Developers" Workshop on QM/MM Simulations, Center for Molecular Modelling, University of Pennsylvania, Philadelphia, PA (USA), 2007.

Gordon Research Conference on Computational Chemistry, Les Diablerets (Switzerland), 2006.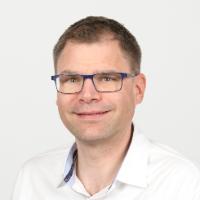 RA511 Level A5, Chemistry, Joseph Black Building, Glasgow G12 8QQ