Tercentenary celebrations at the 2023 Academy of Management Meeting
Published: 17 August 2023
Adam Smith Business School held a luncheon and a drinks reception during the 2023 Academy of Management Meeting as part of the Smith Tercentenary celebrations.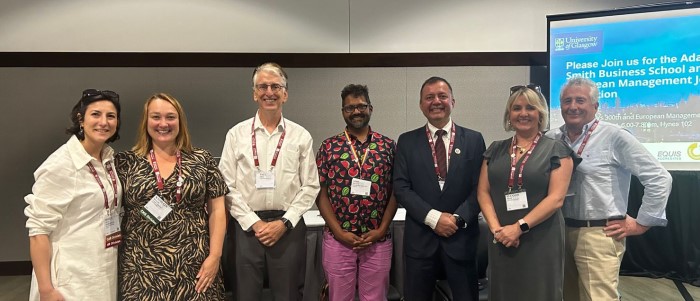 Adam Smith Business School has proudly sponsored the 2023 Academy of Management Meeting in Boston, MA, USA (4 – 8 August, 2022). The theme of this year's meeting was Putting the Worker Front and Center and attracted over 10K attendees.
As part of this sponsorship and in celebration of the Adam Smith Tercentenary, the School held a luncheon and a drinks reception on Saturday 5 August 2023 at Hynes Convention Center. The luncheon was a 90-minute panel discussion titled What's in a Name? Heritage Branding, Legacies and Business Schools in 2023. During this event, panellists shared stories behind branding of their schools, discussed the key challenges that emerge and possible strategies that enable the opportunity for critical but constructive ongoing debate.
The panel was moderated by Head of School, Professor Eleanor Shaw. Invited panellists were from different international contexts:
Professor Amit Nigam (Bayes Business School, London City University)

Professor Paul Olk (Daniels College of Business, University of Denver)

Professor Himanshu Rai (Indian Institute of Management Indore)

Professor Kathleen Riach (Adam Smith Business School, University of Glasgow).
The luncheon was followed by a drinks reception for the friends and partners of the Adam Smith Business School. This was a joint celebration of Adam Smith's 300th and European Management Journal's 40th anniversaries. Following a welcome by Dr Belgin Okay-Somerville, School Director of Internationalisation, Professor Eleanor Shaw reflected on the significance of the Tercentenary for the University and the School and Professor Robbie Paton, Director of Development, reflected on EMJ's journey. The reception was also an opportunity to introduce EMJ's incoming editor-in-chief, Professor Adina Dudau.
Adam Smith Business School colleagues have been active throughout the Boston meeting, contributing to 15 different professional development workshops, paper sessions and symposia. Highlights also include:
Dr Saurabh Lall's best paper award from Business & Society journal for their paper

How Social Ventures Grow: Understanding the Role of Philanthropic Grants in Scaling Social Entrepreneurship (

with Jacob Park)

.

Professor Rosalind Searle's best paper nomination from Management and Organisational Cognition Division, on a new scale to measure organisational moral disengagement (with Irene Skovgaard-Smith and Roberta Fida (Norwich Business School), Claudio Barbaranelli (Sapienza University of Rome), Marinella Paciello (International Telematic University), Mamoona Arshad (De Monfort University) and Matteo Ronchetti (Department of Occupational and Environmental Medicine, Epidemiology and Hygiene)

Adam Smith Business School (ASBS) sponsorship of AOM PNP (Public & Nonprofit) Division's Best Dissertation Award carrying a cash prize of $500 (winner: Hanjin Mao, Rutgers University PhD). In addition, EMJ also sponsored the $500 prize for the best dissertation advancing the legacy of Adam Smith (winner: Ulrik B. U. Røhl, Aalborg University PhD).
Our colleagues continue to serve leadership roles in Academy of Management (AOM). Professor Adina Dudau serves as Chair of the Dissertation Committee for the Public and Nonprofit Division and Dr Belgin Okay-Somerville is one of the Regional Ambassadors of the Careers Division.
The 2024 Academy of Management Meeting theme will be Innovating for the Future and will take place in Chicago, IL, USA, 9 – 13 August.
---
Futher information: belgin.okay-somerville@glasgow.ac.uk
First published: 17 August 2023
Related links