Assessing acute pain in dogs
Pain and the resulting reduction in quality of life are both subjective experiences unique to each individual and animal. In animals, assessing pain is even more challenging because of the inherent communication difficulties and because different animals and species have varying responses to pain.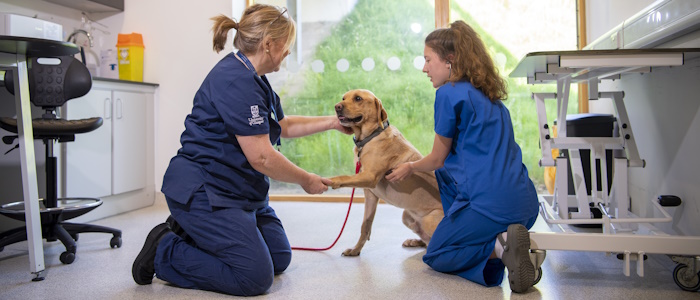 A team at the School of Veterinary Medicine Pain and Welfare group, led by Professors Andrea Nolan and Jacky Reid and in collaboration with Marian Scott, Professor of Environmental Statistics developed the first statistically validated pain questionnaire for assessment of acute pain in dogs. The Glasgow Composite Measure Pain Scale (CMPS) has since been optimised into a form that was practical, quick and easy to use. The results from administering the CMPS short form (CMPS-SF) are now available to veterinarians in 3-4 minutes. Importantly, the questionnaire helps to make decisions about administering painkillers because it provides a benchmark score indicating when an animal is experiencing considerable pain.
The CMPS-SF has been a practical resource guiding clinical decisions and, since 2008, has been freely downloaded by over 3,200 veterinarians worldwide. The questionnaire has also been included in veterinary medicine textbooks, making it a standard reference for measuring pain for both teaching and veterinary practice. Market-leading veterinary healthcare companies (e.g. Vetoquinol, Animalcare, Dechra UK) have used the CMPS-SF in clinical trials and in marketing support materials for its pain medications.
Using their expertise, the researchers have been instrumental in developing international pain guidelines with the World Small Animal Veterinary Association that represents over 180,000 veterinarians worldwide.
---
First published: 14 December 2014