Professor Sarah Cleaveland wins Leeuwenhoek Medal
Published: 20 July 2017
Congratulations to Prof Sarah Cleaveland for winning the prestigious Leeuwenhoek Medal.
Professor Sarah Cleaveland, Professor of Comparative Epidemiology based at UofG's Institute of Biodiversity, Animal Health and Comparative Medicine, has been awarded the prestigious Leeuwenhoek Medal from the Royal Society for her pioneering work towards the eradication of rabies throughout the world.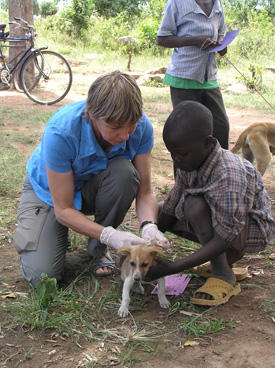 As part of this, she has been invited to deliver the Leeuwenhoek lecture in 2018. The Leeuwenhoek Medal and Lecture is given triennially as an honour bestowed for high achievement in scientific research.
Venki Ramakrishnan, President of the Royal Society, said: "The Royal Society has a long-standing tradition of celebrating the best and brightest scientists. The winners of this year's medals and awards have made outstanding contributions to their field and I congratulate them for their distinguished work and the advancement of science as a whole."
More information can be found at the Royal Society's website.
---
First published: 20 July 2017