Parasites, Ponies & Plastic Chips
Published: 23 February 2017
The Graduate School in the College of Medical, Veterinary and Life Sciences (MVLS) hosted the final of their 'Science Den' event on Thursday 16 February 2017, where six teams of postgraduate students and post-doctoral research staff pitched their ideas of the perfect 'biological tool' to a panel of judges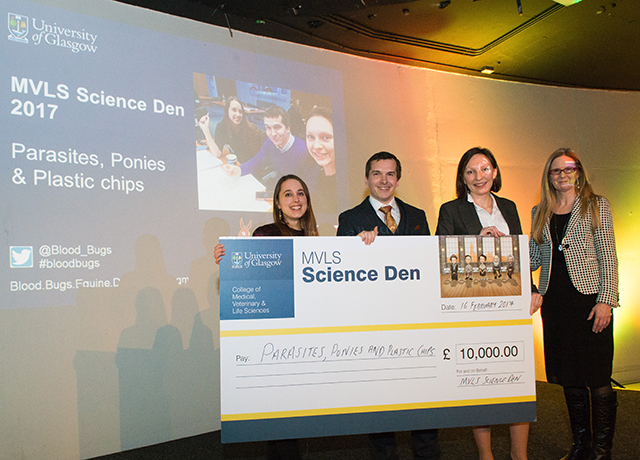 The Graduate School in the College of Medical, Veterinary and Life Sciences (MVLS) hosted the final of their 'Science Den' event on Thursday 16 February 2017, where six teams of postgraduate students and post-doctoral research staff pitched their ideas of the perfect 'biological tool' to a panel of judges. The judging panel included Dr Carol Clugston (MVLS), Dr Jeremy Griggs (GlaxoSmithKline), Prof Rose Maciewicz (AstraZeneca), Mr Jim Reid (life science company director) and Mr Andrew Thompson (science TV producer/director).
The winning team was 'Parasites, Ponies & Plastic Chips', with their pitch for a low cost microfluidics based plastic chip for the diagnosis of equine trypanosomiasis and piroplasmosis. These parasitic blood diseases are a major welfare and economic concern to the world's 110 million horses, donkeys and mules, particularly in the poorest communities. The team's prizewinners, Rob Coultous, Alex Raftery (both School of Veterinary Medicine) and Demelza Kingston (BACHM), have received a £10,000 grant towards the creation implementation of their idea.
After the event, the winning team voiced their thanks to MVLS and the Judges for a challenging but successful evening.
"Working on the severe equine parasitic diseases of piroplasmosis and trypanosomiasis, we are more than familiar with the huge welfare and economic problems they cause globally. The current absence of a point-of-care diagnostic device makes rapid and accurate treatment in the field difficult. It was this dilemma that inspired our pitch for a cheap, low-tech microfluidics based device. The winning of the prize will go a great way towards producing a prototype with our collaborators, which we can then take on to field trials. We thank the MVLS for organising the event, and the judges for giving us this outstanding opportunity."
For more Information about the competition, see Campus News.

---
First published: 23 February 2017