Kathryn Elmer named to the Young Academy of Scotland
Dr Kathryn Elmer, a Lecturer in Evolutionary Biology in the Institute, has been named a member of the Royal Society of Edinburgh's Young Academy of Science (YAS). YAS fosters interdisciplinary activities among emerging leaders from the disciplines of science and humanities, the professions, the arts, business and civil society. Dr Elmer is joined by 43 other members in this year's cohort, including for the first time in YAS's history, four members who have been appointed through YAS's At-Risk Academic/Refugee (ARAR) membership initiative.
Dr Elmer's research aims to identify how evolution of animal biodiversity happens at landscape scales, including its rate, pattern and influence of population and ecological factors. She is applying entirely new suites of genomics tools to answer fundamental questions of how ecology and geography impact speciation patterns. Through the use of new technologies to offer fresh insights into questions scientists have been asking since before Darwin, Kathryn is pushing forward the boundaries of integrative genomics, transcriptomics, and ecology.‌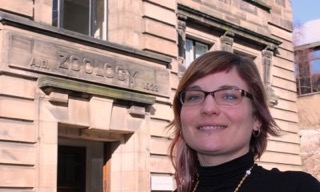 Dr Elmer is looking forward to her first YAS meeting in a few weeks. Regarding her appointment to this prestigious group, she says "I am thrilled with this opportunity to meet and interact ‌with so many enthusiastic and committed researchers from across different disciplines and different backgrounds."
Director of the Institute of Biodiversity, Animal Health and Comparative Medicine Professor Dan Haydon said of Dr Elmer's success, "The Young Academy of Scotland has made a smart choice, and I'm delighted that Kathryn's track record has been recognised in this way."
Dr Elmer joins fellow IBAHCM researcher Dr Heather Ferguson in YAS, marking continued success for the Institute's young scientists.
Related Links
Dr Kathryn Elmer: Researcher Profile
---
First published: 11 August 2016