Professor Christopher Loughrey
Professor of Experimental Cardiology (Institute of Cardiovascular & Medical Sciences)
MVLS College International Dean (MVLS College Senior Management)
Associate (School of Veterinary Medicine)
telephone: 01413302753
email: Christopher.Loughrey@glasgow.ac.uk
https://orcid.org/0000-0003-1297-9159
Biography
Professor Christopher Loughrey is a professor of Experimental Cardiology at the Glasgow Cardiovascular Research Centre, University of Glasgow, UK. He graduated in Veterinary Medicine and Surgery with commendation in 2000 and subsequently completed a PhD in 2003 on how different FK-506 binding proteins alter cardiomyocyte calcium handling. Following this, he held a post-doctoral position at the University of Glasgow during which time he led a collaboration with a pharmaceutical company to discover the cardiac-related action of novel therapeutic drugs including K201/JTV519. In 2005, Professor Loughrey established his own laboratory and was appointed as a Lecturer, then Senior Lecturer (2010) and is currently a Reader (2017). He has been a Principal Investigator on a number of project grants funded by the Medical Research Council, British Heart Foundation, Heart Research UK, Medical Research Scotland and Chief Scientist Office. He is currently the Executive Deputy Editor of Cardiovascular Research and serves on the Editorial board of the British Journal of Pharmacology and Frontiers in Physiology; Cardiac Electrophysiology.
Research interests
Member: Cardiac Research
Professor Loughrey's laboratory use an integrative approach to study the pathophysiology of heart disease. His group has a particular focus on the mechanisms contributing to changes in heart architecture and function following myocardial infarction and how this adverse cardiac remodelling leads to heart failure. His group have identified several new therapeutic targets with translational potential for limiting the progression to heart failure in patients with myocardial infarction.
Key research areas include: Excitation-contraction coupling in ventricular cardiomyocytes, sarcoplasmic reticulum–mediated calcium handling, adverse cardiac remodelling, myocardial infarction, heart failure, ischaemia-reperfusion injury, runt-related transcription factors (Runx1, Runx2 and Runx3) and cathepsins.
Professor Loughrey's laboratory has expertise in a number of methodologies which span the level of the single cell, isolated organ, whole animal in vivo and patient including: confocal microscopy, single cell electrophysiology, fluorescence measurements/imaging, Western blotting, rtqPCR, isolated heart techniques (Langendorff perfusion and working heart preparations) and in vivo cardiac phenotyping/micro-surgery (e.g. intra-ventricular pressure-volume measurements, electrocardiography, echocardiography and mouse models of myocardial infarction and ischaemia–reperfusion injury)


Grants
Grants and Awards listed are those received whilst working with the University of Glasgow.
Elucidation of molecular pathways underlying cardiac disease caused by Col4a1 mutations
Heart Research UK
2018 - 2021

Investigating the Therapeutic Potential of Runx1 for Myocardial Infarction
British Heart Foundation
2018 - 2021

Small molecules activating Nrf2 as a therapeutic approach to prevent cardiac ischemiareperfusion
British Heart Foundation
2018 - 2019

Cardiac gene therapy with angiotensin-(1-9): dissecting the underlying mechanism for preservation of cardiac function post-myocardial infarction
British Heart Foundation
2017 - 2020

Small molecules activating Nrf2 as a therapeutic approach to prevent cardiac ischemia-reperfusion injury
British Heart Foundation
2017 - 2019

INSPIRE Award
Academy of Medical Sciences
2016 - 2017

INVESTIGATING THE ROLE OF RUNX1 IN THE HEART POST-MYOCARDIAL INFARCTION
Medical Research Council
2015 - 2018

Investigation of Osteopontin as a candidate gene for left ventricular hypertrophy
British Heart Foundation
2014 - 2018

Angiotensin-(1-9) a novel peptide therapeutic for improving cardiac function.
Medical Research Council
2014 - 2015

Investigating the therapeutic potential of cathepsin-L inhibition to limit ischaemia-reperfusion injury in the heart
Chief Scientist Office
2013 - 2016

Investigating the potential of cathepsin-L as a common therapeutic target and biomarker for coronary heart disease and African trypanosomiasis (ISSF Catalyst Fund)
Wellcome Trust
2011 - 2014

Angiotensin 1-9 and angiotensin 1-7: assessment of their mechanisms of action as counter-regulatory renin angiotensin system peptides in cardiovascular disease
British Heart Foundation
2011 - 2015

Investigating the expression and function of RUNX1 in cardiac tissue during myocardial infarction
British Heart Foundation
2009 - 2011

The role of direct parasite-cardiomyocyte interaction in the pathogenesis of the cardiac dysfunction observed in mammals with African trypanosomiasis
Royal College of Veterinary Surgeons
2008 - 2009

Targeted disruption of sarcoplasmic reticulum mediated Ca2+ handling and diastolic dysfunction: A comaprison between isolated cardiomyocytes and the whole heart.
Heart Research UK
2007 - 2009

Investigating the role of intracellular calcium in the left ventricular diastolic dysfunction
Medical Research Scotland
2006 - 2008

Cellular Basis of Arrhythmias:The Inter-Relationship between Ca2+ Transients and Ca2+ Waves in Cardiac Muscle
British Heart Foundation
2006 - 2009

Use of Micro-Conductance Technology to investigate the link between altered sarcoplasmic reticulum calcium dynamics & diastolic dysfunction.
Tenovus Scotland
2005 - 2006

Use of micro-conductance technology to study cardiac pressure-volume (PV) relations in ex vivo whole rabbit hearts during acute application.
The Royal Society
2005 - 2006

Teaching
Professor Loughrey is the Module Leader for cardiovascular teaching at the School of Veterinary Medicine and has supervised a substantial number of MRes and PhD students to completion since 2005.
He also teaches, assesses and mentors both undergraduates and postgraduates on the following degree programmes:
School of Veterinary Medical: (BVMS and BSc Veterinary Biosciences

School of Life Sciences: (BSc Hons Level 4, MRes Biomedicine, MRes Integrative Mammalian Biology)

Institute of Cardiovascular & Medical Sciences (BHF 4 MRes programme)
I am the Module Leader for cardiovascular teaching at the School of Veterinary Medicine and have supervised a significant number of MRes and PhD students to completion since 2005.
I also teach, assess and mentor both undergraduates and postgraduates on the following degree programmes;
School of Veterinary Medical: (BVMS and BSc Veterinary Biosciences)
School of Life Sciences: (BSc Hons Level 4, MRes Biomedicine, MRes Integrative Mammalian Biology)
Institute of Cardiovascular & Medical Sciences (BHF 4 MRes programme)
Additional information
Editorial Board
2018 - present: Executive Deputy Editor: Cardiovascular Research
2016 - present: Editor: British Journal of Pharmacology
2016 - present: Editor: Frontiers in Physiology; Cardiac Electrophysiology
Grant Advisory Board
2013: Member of the Clinical Veterinary Research Training Wellcome Trust grant panel.
2010: Wellcome Trust - International Mouse Phenotyping Project Advisory Meeting
Invited International Presentations
2009: Aetas Pharma Ltd - Meeting
2008: USA - Gordon Research Conference - Co-chair of conference symposium
2008: Trondheim, Norway - Conference at Trondheim University
2007: Aetas Pharma Ltd - Meeting
2003: British Cardiac Society (UK) - Conference
Prizes, Awards and Distinctions
2008: Fellow of the Higher Education Academy
2005: 'Annual Presentations by Britain's Top Young Scientists'
2003: British Cardiac Society - Judge's Prize for Oral Presentation
2001: Association of Veterinary Teachers and Research Workers (AVTRW) - President's Prize for Oral Presentation
2000: BVMS with commendation
1997: Silver Medal by the Royal Agricultural Society - BVMS Degree
1997: Eukanuba Nutrition Prize - BVMS Degree
Professional Learned Society
2017 - present: American Heart Association – Professional Member (Basic Cardiovascular Sciences)
2005 - present: European Society of Cardiology (Cardiac Cellular Electrophysiology) - Member
2005 - present: Veterinary Cardiology Society - Member
2002 - 2016: Biophysical Society - USA - Member
2002 - present: British Cardiac Society - Member
2002 - present: International Society for Heart Research - Member
2001 - present: Physiological Society - Member
2000 - present: British Veterinary Association - Member
2000 - present: Royal College of Veterinary Surgeons - Member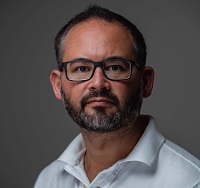 Dr. Christopher M. Loughrey, University of Glasgow, Glasgow Cardiovascular Research Centre, 126 University Place, Glasgow, G12 8TA