Professor David Vetrie
Professor of Translational Leukaemia Genomics (Epigenetics)
telephone: 0141 330 7258
email: David.Vetrie@glasgow.ac.uk
https://orcid.org/0000-0003-2075-4662
Research interests
Gene Regulation in Normal Haematopoietic Development and Disease
My research addresses fundamental questions about the regulatory processes that control the expression of genes during normal haematopoietic development in both human and mouse. We use state-of-the-art approaches to study these processes both genome-wide and at specific gene loci. Similar approaches are also being implemented to understand the changes in transcriptional and regulatory programmes that occur during the development and treatment of leukaemia.
For more information see his Research pages as follows:
Grants
Grants and Awards listed are those received whilst working with the University of Glasgow.
TASTER (TArgeting STEm cell Resistance) - Defining leukaemic cell clonal architecture to inform and monitor drug responses in the TASTER CML Phase II Clinical Trial
Cancer Research UK
2018 - 2019

ISSF Catalyst: Identification & validation of downstream targets of the histone demethylase KDM4A(JMJD2A) in Acute Myeloid Leukaemia (AML)
Wellcome Trust
2015 - 2016

Targeting p53, cMyc and PRC2 regulatory hubs: A systematic and stratified approach to deliver new therapeutics for CML
Bloodwise
2015 - 2020

Modulation of H3K27 methylation to eradicate TKI-persistant CML stem cells
Bloodwise
2014 - 2017

CiC: Targeting neurotransmitter pathways: identifying novel therapeutics to eradicate CML stem cells
Medical Research Council
2014 - 2015

The role of H2B ubiquitination in genome organisation.
Biotechnology and Biological Sciences Research Council
2012 - 2016

BirA for ChIP -Optimisation of a non-antibody based technology to improve the efficiency of genome-wide analysis of DNA binding sites.
European Commission
2008 - 2010

The Histone code of human haematopoietic stem cell development
Wellcome Trust
2008 - 2011

High Throughput Epigenetic Regulatory Organisation in Chromatin [HEROIC] Transfer
European Commission
2007 - 2010

Publications
Number of items: 69.
2018
2017
2016
2015
2013
2012
2010
2009
2008
2007
2006
2005
2004
2003
2002
2000
1999
1998
1997
1996
1995
1994
1993
1992
1991
1990
This list was generated on Mon Sep 23 12:52:34 2019 BST.
Number of items: 69.
Articles
Conference or Workshop Item
This list was generated on Mon Sep 23 12:52:34 2019 BST.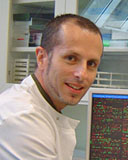 Rm 311, Wolfson Wohl Cancer Research Centre, University of Glasgow, Garscube Estate, G61 1QH