A study system for biting vectors
Background
Midges and other biting insects are infamous for their nuisance biting, which can significantly impact on tourism and outdoor industry (e.g. forestry). They are also potential vectors of diseases in wildlife (e.g. Avian malaria) and livestock (Schmallenberg, Blue Tongue Virus). Therefore, there is need for a better understanding of biting insects and disease ecology.
Vector and disease biology are areas of particular strength within IBAHCM, but have been mainly based on field studies of tropical vectors and their parasites in Africa, Asia and Australia. We are currently establishing a local system for the study of vector-borne disease in the woodlands surrounding our field station SCENE on Loch Lomond.
The study system
‌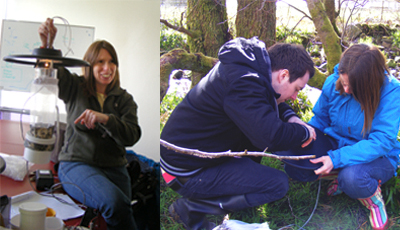 We are conducting baseline studies of the ecology of biting arthropods that could be epidemiological and/or economic importance in Scotland through their role as disease vectors or as nuisance pests. Numerous potential vector species including ticks, mosquitoes, black flies and biting midges have now been recorded at SCENE.

So far, we have acquired and successfully tested a variety of traps for sampling these vectors, and are conducting preliminary analysis to investigate their interactions with host populations and environmental factors. Current efforts are targeted at identifying species, sexes, and life-history stages of midges, with support by APS Biocontrol. Background information indicates a high host prevalence of avian malaria in woodland breeding birds at SCENE. Future plans are being developed to screen vectors for a range of pathogen species including avian malaria.
Research applications
Currently, our main interest is in biting midges (Culicoides sp.) in the context of climate change and disease risk in Scotland. Key scientific questions include:
What is the diversity and prevalence of pathogens within Scottish midge populations?
Are midge-borne pathogens with known impacts on livestock or wildlife health on the increase in Scotland?
What is the impact of predicted changes in climate on the disease transmission capacity of Scottish midges?
Contact
Dr Heather Ferguson (Heather.Ferguson@glasgow.ac.uk)
Dr Barbara Helm (Barbara.Helm@glasgow.ac.uk)