Dr Richard Staff
Research Fellow - Quaternary Geochronology (Scottish Universities Environmental Research Centre)
Research interests
My research interests are in Late Quaternary geochronology, with specific interest in radiocarbon dating and tephrochronology, as well as broader aspects of Quaternary palaeoclimatology.
I specialise in radiocarbon dating and, in particular, radiocarbon calibration.
I am also interested in Bayesian statistical modelling of chronological data.
Grants
High Resolution Structure Associated with the 'Mono Lake' Event: New 14C Data from Tenaghi Philippon, Greece. Staff, R.A., Hardiman, M. & Pross, J. (NERC Radiocarbon Facility). £41,666. 2016.
A Synthesis of the Radiocarbon and Greenland Ice-core Timescales. Staff, R.A. (The Leverhulme Trust: Early Career Fellowship). 2015-2018.
Comparison Study of the Lake Suigetsu and Lake Ichi-no-Megata Radiocarbon Datasets: a Proof of Concept. Bronk Ramsey, C. & Staff, R.A. (John Fell OUP Fund, University of Oxford). £35,272. 2011.
Supervision
Rebecca Kearney (DPhil candidate, current, RLAHA, University of Oxford). NERC DTP funding. Understanding past rapid climatic change through reducing chronological uncertainty.
Additional information
Education
DPhil (2007-2011) Archaeological Science – Research Laboratory for Archaeology & the History of Art (RLAHA), University of Oxford - Research on radiocarbon calibration records, focussing on new measurements from Lake Suigetsu, Japan.
MSc (2006-2007) Quaternary Science – Department of Geography, Royal Holloway, University of London
MA (2003-2006) Geography – Department of Geography, University of Cambridge
Employment History
Post-Doctoral Research Fellow, RLAHA, University of Oxford (Sept 2015-Feb 2017)
Oxford Radiocarbon Accelerator Unit (ORAU) Acting Laboratory Manager, RLAHA, University of Oxford (Feb 2013-Jan 2014 & Oct 2014-Jan 2015)
Post-Doctoral Research Assistant, RLAHA, University of Oxford (Feb 2011-Aug 2015)
ORAU Laboratory Technician (part-time), RLAHA, University of Oxford (2009-2010)
Member of Academic Societies
The UK Quaternary Research Association (QRA)
The INTIMATE ('INTegrating Ice core, MArine and TErrestrial records, 60-8 ka') Initiative
The European Geosciences Union (EGU)
Prizes
Daiwa Adrian prize (as part of the 'Suigetsu Varves 2006' project team), presented at the Royal Society, London (Nov 2013) – awarded every three years "in recognition of significant scientific collaboration between Japanese and British research teams in the field of pure or applied science"
Janet Chamberlain prize (Girton College, University of Cambridge) for undergraduate examination results (2006)
Sir Francis Goldsmid Scholarship (Girton College, University of Cambridge) (£400) (2005-2006)
Jane Catherine Gamble prize (Girton College, University of Cambridge) for undergraduate exam results (2005)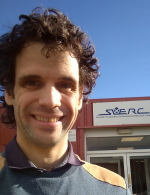 Suerc, Rankine Avenue, East Kilbride, G75 0qf