First Flyer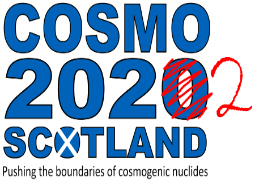 Dear Colleagues
We would like to announce the Cosmo2020-Scotland workshop, a continuation of the previous four events known as the Nordic Workshop on Cosmogenic Nuclides. The three day workshop and the one-day field excursion will be jointly hosted by the Scottish Universities Environmental Research Centre and the University of Edinburgh and held in Edinburgh, 7-9 June 2022. The workshop will comprise a scientific programme of oral and poster contributions by members of the international cosmogenic nuclide community, discussions, short practical workshops and an optional field excursionon the last day.
Expression of Interest: Don't miss any announcements!
Sign up here (Google form): Expression of Interest
Stay updated on important deadlines including abstract submission and registration.
Logistics:
Most conference activities will be held at the Edinburgh Centre for Carbon Innovation (ECCI), located in the city centre. The nearest airport is Edinburgh (~30 min bus/taxi/tram to city centre), although the Glasgow airport is also nearby (~1.5 hours via public transport). We will update the website with discounted accommodation options as they become available. Sign up to get updates using the 'Expression of Interest' form above!
Preliminary workshop schedule:
Tue 7 June: Registration. Oral and poster presentations.
Wed 8 June: Oral and poster presentations.
Thu 9 June: Oral and poster presentations.
Fri 10 June: Field excursion
Scientific Committee Members Wanted: The members of the scientific committee will be distributed in subcommittees corresponding to the different conference sessions according to their expertise. Each member will receive ~10 abstracts to assess and will work with the committee to assign session talks and posters. Scientific committee volunteers will receive a discount on the registration fee. Let us know on the 'Expression of Interest' form (above).
Short workshops:
Short practical sessions (~2h) will be run during the conference (e.g. Noble gas mass spectrometry, Be/Al wet chemistry). Please send us suggestions of topics you are interested in! cosmo2020scotland@gmail.com.
Keynote speakers, scientific committee and abstract submission deadlines will be announced soon.
We look forward to welcoming you in Edinburgh in 2022!
Derek Fabel, SUERC, UK
Delia Gheorghiu, SUERC, UK
Andy Hein, University of Edinburgh, UK
Martin Hurst, University of Glasgow, UK
Shasta Marrero, Cardiff University, UK
Ángel Rodés, SUERC, UK
---
First published: 21 October 2019