Space Glasgow
Issued: Tue, 12 Jun 2012 08:45:00 BST
The University currently receives around £14m each year in funding to support space-related research, and has built solid links with organisations including NASA and the European Space Agency (ESA). The launch of Space Glasgow brings together a wide range of projects being undertaken across the University.‌
‌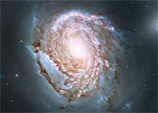 The initiative is coordinated by Space Systems Engineering lecturer Dr Patrick Harkness. 'Our academics are looking at areas of research including the development of cognitive binocular vision for robots, forecasting solar flares, ensuring that space-based communication channels are safe from hacker attacks, and measuring gravitational waves. One of the main aims of Space Glasgow is to encourage academics from different disciplines to pool their knowledge and come up with novel approaches to solving problems.'
Space Glasgow also encourages student innovation. In March, a remarkable student project, which could pave the way for the development of a wide range of space construction projects, was carried on a rocket from the Arctic Circle to the edge of space
The creation of Space Glasgow follows a series of investments by the UK government in the space sector, one of the few areas of the economy to experience continued growth in recent years. 'We're working to develop a strategy to tackle some of the main challenges which have been identified by the UK research councils,' says Dr Harkness. 'Our plan is that, in the next five to ten years, the University of Glasgow will be recognised as a leading voice in space research, with good links to government and a high public profile. It's an exciting time to be involved in the space sector and we're confident we're well-placed to deliver significant results.
Find out more
---